Kimberly Jones‐Pothier, popularly known as "Real Talk Kim," is a woman who truly fulfills her passions and purpose. She's a wife, mother, pastor, entrepreneur, best-selling author, entertainer and most importantly a worshiper. We recently sat down with Real Talk Kim to discuss her exciting new book, Shut Hell Up: When the Enemy Brings Up Your Past, Remind Him of Your Future, obtain her best advice during our current Coronavirus pandemic, and much more!
Tell us about your book, Shut Hell Up: When the Enemy Brings Up Your Past, Remind Him of Your Future.
Most of my life I have dealt with mind games and for most of my followers, they tell me they don't know how to change their thoughts, anxiety, panic, and worry. I got this idea to write this book called "Shut Hell Up." Basically, it helps people understand that if you want to walk out a breakthrough, you have to breakthrough! You can't just hope it happens; you have to believe that it will. This book teaches you to make choices in a place of confidence, how to reject labels, and let God determine who you are. God's plan is bigger than your past. He loves you and wants to create great future for you. It's an easy read, you won't want to put it down. I wrote it for people that don't like to read necessarily (laughs). This book will help you break through yourself; I believe we're the ones holding ourselves back in life.
What do you want each reader to take away from your book?
I want readers to feel like they can do anything but fail. No matter how many times you've gone through it, you're about to get your big break. I believe that when we believe in ourselves, we can do anything. The enemy in our minds tries to take us out or make us feel like we're not qualified. By the time you finish this book, I want to be the one that helps you walk in your next season.
With our current pandemic going on right now, what advice would you offer our readers?
I think it's great this book came out during this season. This is a global pandemic right now. The whole world is regrouping. In this season of resetting, I hope we don't waste it. Don't waste this season, self-quarantine your inside, and leave the junk that's been holding you back. What is it in your life that you don't like? Make a change. Don't carry that extra baggage and make this time count. We won't ever go through this again, it's primetime for those things you've put on the back burner. Now is the time to start those, put a plan in place to conquer those things. Kick butt and take names! You will make it through this just like you've made it through everything else. Better doors are about to open, keep your mind above the Corona. Focus on what is going to be ahead of you because this storm is going to run out of rain.
What can we expect to see from you in the future?
Listen! Just watch! I'm so honored God gave me a social media platform to reach people. Follow me daily for the rawness and relatability. I don't take it lightly. I just plan on changing the world one day and person at a time. I've got a new show out called Real Talk Kim and this book, Shut Hell Up, I'm a pastor at Limitless Church in Fayetteville, Georgia, and everything out of me will be at Limitless. Stay connected because where I go, you go.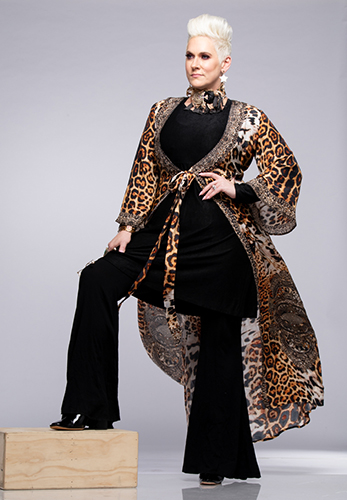 For more on Kimberly Jones-Pothier, click here!
Click here for more on Shut Hell Up.
Stay connected with her by following her on Facebook, Instagram, & Twitter.
All images courtesy of Real Talk Kim