In 2020, 31-year-old Chassidy Jade made her mark as one of the youngest and only female staff editors under contract with the NBA.  Jade was appointed senior editor in post production for the franchise.
Set to orchestrate a series of promotional content reels for the 2020 season, the filmmaker and artist is a professional video editor and multitalented creative. Jade's pollard yet elegant editing style has demanded the attention of many elite producers behind the scene.
Widely known for her art shows which highlight female designers, visual artists, and filmmakers, her unique style showcases a variety of independent creators. Jade's transition into the world of the NBA came at a time of necessity for both herself and the league. Coined #EditBae, Jade lives up to that name and then some. With 10 years plus experience as a commercial editor in Hollywood, she's come a long way from her humble beginnings as a troubled teen.
"The art shows are my personal interests and editing is in my main vain. It almost feels like a 3-way relationship lol. I lost my main job at the start of COVID and without being able to do shows on the side I had to figure out my next move. I was looking for work and had a friend reach out that initially recommended me for the WNBA. That fell through so I got referred over to the NBA. They couldn't find editors who could handle the tight restrictions and schedule. I jumped on it instantly! I love editing sports more than anything! There's so much action and freedom to be creative so it was pretty smooth transition. As much as I miss my art shows, this reminds me of having that same freedom."
Behind The Lens
You fell in love with being behind the camera as a teenager, tell us some of your fondest memories while working at local concerts and conventions?
My mentor would take me on the road with him and it was a rush seeing all the cameras, lights, and stages being built for hours…I was super intrigued. My fondest moment was doing this big concert where Rickey Smiley came. I ended up being the technical director for it, controlling all the camera operators. I was so nervous, yet thrilled at the same time! It was so fun being able to say I worked a concert for a big comedian at the age of 16. Around 15 years old, I was going through a lot of things in my life so when I met my mentor Ron Crawford he gave me purpose, filmmaking was all I wanted to do. I've always been creative but I had no idea how I would use it as a career. Starting here set me up for life.
Women in Post Production
Post Production once started off as a job for women in the industry, you mentioned to-date it's rare to see women or millennials in that field now. What has your experience been like navigating thru the industry? 
I found it interesting that people were overly surprised when I walked in the room. Like I get it, but it can be uncomfortable feeling like the alien in class where people look at you, before your work. Then you realize this is the way of the world on so many levels and I have to just focus on the work. I think that we as young black millennials are too stuck on being different verses being good. Once I took down my defense so many doors opened for me. I 've been beyond blessed to have other people fight for me and get me certain positions. It became about the work and hustle.
The editing community ACE (American Cinema Editors) is so helpful and humble. You realize everyone has to constantly prove themselves because this industry is hard for everyone so there's no time to let it get to you. I make sure my work speaks for itself and I become undeniable no matter who I am or what I look like. Of course it's still frustrating that you have to fight for certain things but I internalize that and keep building so I can help others. I will say exposure is everything so just getting more women, millennials, and people of color interested in this field is key. We have to take advantage of the diversity conversation that's happening and push for opportunities.
NBA Cancellations
Did the cancellation of the 2020 NBA playoffs affect your work in anyway? Do you have plans on staying under contract with the NBA in the future?
It was a bit of mixed emotions. I absolutely had the players back, when it came to taking some time to digest the current events. Being in the bubble is super rough with no family and friends while working every single day. Although this contract has been fantastic, my focus is getting to the finish line so we all can get back to normal life lol. I definitely look forward to following up with the NBA next season but can't confirm as of yet.
CEO of Crown Me Royals Lab
You're The CEO and Director of Crown Me Royal Labs, which you started in 2015. What was your initial vision for the company? What has CMRL become today?
Maneeee, CMRL has come a long way. Initially like every young filmmaker I just wanted to make movies. When I started my first film Brown Ballerina, we created shows around it to grow funding and gain exposure. People became so obsessed with the idea of collaging these different genres of film, dance, and art so I ended up curating art shows centered around my friends who are mostly artists and deserved more attention. Now the shows are our bread and butter. We also create original content for indie artists from promos to music videos. It's been great exploring everything I've done independently which is some of my proudest work.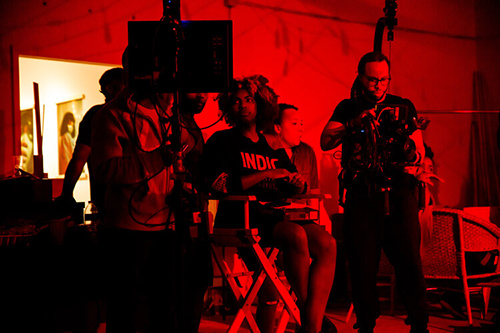 The Hustle
You're are no stranger to the hustle. After college you took as many opportunities as possible to prove your skill set. What advice do you have for upcoming artists and film students?
Respect the hustle and understand everything is a learning experience. Excuse my french but, You don't know shit lol. Don't be too big to intern and study your programs because you have to be ready and be good. You'll be surprised how fast people respond. Research is everything — I've googled, I asked for help, I emailed strangers, and I'm still doing all of this to day currently. I would watch the credits and write down editors names and the production companies. 
People now are so focused on being at the top so fast without enjoying the ride. You have to focus on the work and take your ego out of it. Respect relationships as they will navigate your whole career and reputation. Keep a motivating circle of like-minded creatives around you. Everything you desire will come in due time.
The Mission
At only 31 years old, you've accomplished many notable things, what is your personal mission in your career? What are you doing to help others on the same path?
My main goal will always be to expose young black and brown kids to working behind the scenes of the film industry, in tech, and developing relief programming to the Caribbean. All of my show proceeds go towards funding my non profit The Royal Eye Foundation that will give graduates free starter equipment and general support to the Bahamas and Haiti.
All images provided by Chassidy Jade