The hip-hop Soul duo, Ruff Endz is still celebrating authentic music 20 years later with their hour performance livestreamed Saturday, November 21st at 8pm EST. A vision that started over two decades ago brought the group's members David "Davinch" Chance and Dante "Chi" Jordan together again to prove that 90's R&B type of heart music never dies. These smooth brothers from Baltimore, Maryland were on to something with the chorus from their #1 Billboard hit single "No More" back in the year 2000.
"No more shopping sprees, no more late-night creeps, no more VIP, we can't even kick it no more."
The lyrics vividly describes the music scene now with no more packed/sold out clubs, venues, and stadiums to host concerts due to COVID-19 and social distancing guidelines. The confirmed cases of the coronavirus continue to fluctuate from state to state confirming it'll be awhile before we get the-all clear to return to normal. Yet this hasn't stopped music artists from continuing to find new ways to creatively tickle their fans ears and feed their souls right now with nostalgic music in 2020.
Throughout the years, Ruff Endz has never missed a beat in keeping their fans front and center of what's going on with them, upcoming performances and new music. Their latest intimate show was hosted by XOD Network to livestream David and Chi bringing the house down to celebrate 20 years of hip-hop soul music with their timeless ballads. Bringing life to the statement "Black don't crack, and their voices don't either" the swag duo entered the stage with their band and background singers dressed in all black attire from head to toe. They were sure to keep you rocking out your seat when the beat dropped for the song "No More." They slowed things down and cracked your heart open with David's hold-back-the-tears performance of their single "Why You Came." To support the brotherhood of 90s music, guest appearances of Billie Covington from Hi-Five, Q Parker from 112, Donnell Jones, H-Town, and Sisqo from Dru Hill stopped by to congratulate the duo on their milestone. Chi came back to the stage to get down in his roots with his foot tapping tribute to the Godfather of Soul and Master of Funk Music, James Brown. The group sealed the evening with their incomparable ballad "Someone to Love You" leaving the fans thirsty for more.
Ruff Endz continues to prove they're more than a one hit-wonder in a world craving for the raw authentic truth in the ups and downs of relationships and love. With more than 6M streams of "Someone to Love" on Spotify and more than 14M streams of "No More" David and Chi are grateful. They're continuing their legacy with late nights and early mornings in the studio to release a new record due to release in Spring 2021.
This feature was submitted by Nikki Gillis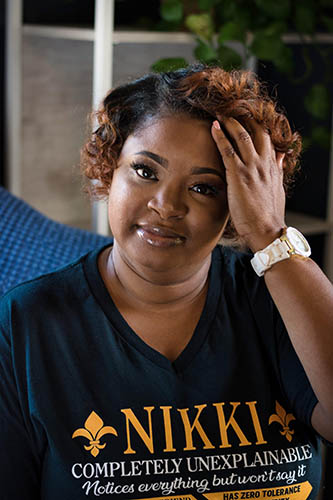 Nikki Gillis is a prolific writer with a dedication to self-awareness from Winston Salem, NC. For 12 years now, Nikki's style of ghostwriting has been echoing behind the scenes in several leading industries. Her focus is to remain a rarely seen "publishing insider" of high-quality content with a surgical ear for music that feeds the soul. 
Featured Image by Mimi (Made in my Image) | provided by Nikki Gillis