Sai Suman is one of Hollywood's beloved celebrity fashions designers!
Her collections have graced the runway of New York Couture Fashion Week, Dubai Fashion Week, the Mercedes Benz Fashion Week—Australia, and Mercedes Benz Fashion Week – Europe.
Sai has carved a niche for herself from the beginning of her journey, and extraordinarily fast!  Her work excites and conflates the senses while challenging traditional notions of the handmade
The Los Angeles-based celebrity fashion designer is known just as much for her red-carpet designs on celebrities, as her haute couture looks on A-listers.
She dons her Sai Suman creations at the Emmy Award, Oscars, Golden Globe, or Cannes film Celebrities call when they need to make a stylish entrance and appearance at Hollywood's prestigious ceremonies.
What was the first design under your own designer label?
I started off by designing for wedding couples, custom- made orders and then designer beach sarongs and couture wear for other brands in Dubai, Bahrain and the U.K. It was one, bulk orders and no looking back then. It was an incredible confidence booster!
How do you combine handwork with technology and translate the process?
I translate my inspirations into materials and fabrics and mix traditional craftsmanship and new technologies to go beyond the possibilities of using just one medium. The amount of details that is in the dresses and garments I create are only possible because I fuse the best of both worlds.  Every technique requires a different approach and different skills.  It's like playing music; every instrument needs a lot of practice before you master it, but the skills in one instrument do help to master another.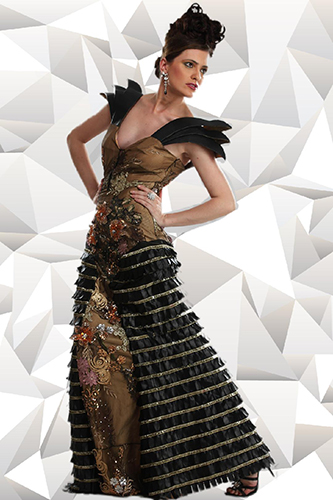 What do you want to achieve through fashion?
My goal is to contribute and empower art of fashion, the place where innovation and craft come together and are perfected into the best possible level.
How would you describe your designs?
My designs combine a blend of Western, fashion elements paired with traditional, exotic touches of Eastern hand craftsmanship. I like to experiment with unique fabrics, silhouettes and innovative style combinations.
When did you know you wanted to be a designer?   
After changing my career direction from medical, I always wanted to do something creative. My love of dressing up seemed to be a constant for me. I also think after winning the Miss Teen contest in India and doing some modeling and acting projects, my interest toward fashion turned serious. I have always been fascinated with fashion and experimenting with colors.
If you had to choose three top celebrities to wear your designs, who would you select?
Jennifer Lopez, Rihanna and Cardi B.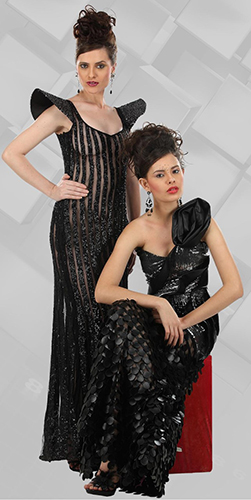 Do you think the pandemic has brought about favorable changes in the fashion industry?
I think so. The fashion industry was in need of big change and I feel that COVID has pushed that change forward. Sustainability, inclusivity and innovation are a few practices that have advanced in the right direction. So, yes, it's been a positive change.
Sai also adds television host to her many credits. She is known as one of the most "likable" and "respected," fashion experts when sharing fashion tips on prominent television shows. Sai says, "I love the interaction aspect when styling and featured on television." "Fashion is not just designing behind the scene but also interacting with people," she adds. 
How can people connect with you or custom order your designs?
You can shop my runway collection to red carpet looks on www.saisuman.ws.  Follow me on social media @saisumancouture on Instagram, Twitter and on Facebook.
All images courtesy of Sai Suman