Sammi Bivens is no stranger to adversity. Growing up in a small town in Southern Arkansas, she was raised by a family member due to some of the personal struggles of her birth parents. Being one of the first to attend college in her family, Bivens had to maneuver through much of her educational career on her own. She knew that she had dreams of being great but there was little guidance so she had to, in many ways, become her own teacher but she was determined and was not going to let anything keep her from realizing her dream. Finding her way through, Bivens kept a full-time job while attending college and continued to journey forward.
Finally, the day came that she graduated and obtained a Bachelor's Degree in marketing but, unlike the happy ending we are all taught to expect, the job offers did not pour in. Unable to find a job in her field, Bivens tapped back into that survivor mentality and started her own company called Tainted Rose. Slightly off-key with her educational background, Tainted Rose sold jewelry, accessories, and apparel. It was during the building of this business that her entrepreneurial muscles grew and she began learning what it took to run a business. She was faced with the reality of start-up costs, branding, and marketing. It was from this life lesson that her current venture, Digital Marketing Maven, was born.
Digital Marketing Maven is a full-service digital marketing and business development firm that caters to business owners that are in the very position that Bivens had once been in when starting her first business, so she knows from experience where they are what challenges they may be facing. Bivens took some time to talk with us about how she took the lemons that life dealt with her and made her very own lemonade. 
What are some of the challenges you faced building a business as a woman of color?
My number one challenge is a lack of funding and having access to resources. Historically, people of color have been at a disadvantage in all aspects of life, but when it comes to business, we also lack the knowledge and resources to sustain a successful business. According to a recent study 10 out of 18 black businesses fail within the first 18 months!
Another challenge is finding reliable support and mentorship. No one taught me how to do what I'm doing, so I am doing everything on my own. While there are plenty of business coaches available, many of them are extremely expensive to work with. 
While these are my biggest challenges, I'm not letting them stop me. If anything, I've learned how to keep pushing and recognize how to use these challenges as an advantage. For instance, one of the primary reasons I keep the cost of my services reasonable is because I don't want someone else to feel like they can't afford to get started. Again, I know what it means to completely fund your business out of your pocket. Additionally, while I'm helping others get started, I'm also supporting and mentoring them throughout the process. Sharing with them what I know and how I think it may help them.  
Ultimately, my number one goal is to become as knowledgeable as possible and pass this information on to as many people as possible! 
Give us some advice about the importance of embracing failures.
Failure is all part of the process; embrace it and learn from it. 
Failure teaches you what not to do, it builds your character, and it helps you pass down those lessons to others who are coming after you. No one's journey is perfect, but the difference between those who make it and those who don't is their response to adversity. Adversity will either make you or break you. 
When things don't work out the way I hoped, I take a moment to reflect on what happened, try to understand what went wrong, document what I learned, and keep it moving. 
What do you say to the college student that has received their degree, yet has not been able to find a job in their field?
Create your opportunity! If no one is willing to give you a seat at the table, build your own. When I couldn't find a job after graduating with honors, I made it my mission to show the world, and more importantly myself, that I had what it took to pursue and obtain what I dreamed for myself. Pushing myself into the unknown is what put me on the path to entrepreneurship! I understand that not everyone wants to be an entrepreneur and that's understandable, but you can still create your opportunities.
When I finally landed, what I thought was my "dream job" in marketing, was because I was bold enough to walk directly up to the CEO of my company after a town hall meeting and express my interest! I knew that I would excel if only given the opportunity, and I knew that I had to take ownership of my future.
Never be afraid to pursue what you desire! The worst thing someone can say is no, but with each no, you are that much closer to a yes! 
How do you stay motivated during the challenges you face in business.
In business, there is no shortage of challenges & discouraging events. What keeps me grounded is my faith and maintaining a personal relationship with the Highest Good. It is truly because of my relationship with Him, that I can handle the highs and lows of everything in life, and more importantly, my business. 
My relationship with God helps me to remain hopeful. When things aren't looking the way I want them to, I'm reminded that it's all temporary and this situation is simply building my character for the next level.  
Remembering why I started also helps me to remain motivated. Truth be told, I am a first-generation everything, which means I am breaking generational curses daily! I don't take that responsibility lightly and because of that, it empowers me. 
Please, share with us a few digital branding tips for new businesses in current times.
Have a website.

Making your brand look more professional and streamlining your processes, will not only make your life easier, but it will make it easy for your audience to support you.  

Get familiar with Search Engine Optimization (SEO).

SEO

is the process of improving the quality and quantity of website traffic to a website or a web page from search engines. Essentially, it exposes your brand through non-paid (also known as "organic") search engine results. Since m

ost people don't have a large budget to spend on advertising, SEO is a great way to increase visibility to your business organically. Organic leads and interest will ALWAYS convert at a higher rate than paid advertising. 

Pick a social media channel and remain consistent.

A lot of people will tell you to do whatever is trending or to hop around from one popular trend to the next, don't. Analyze where the majority of your website traffic and sales are coming from and nurture that specific channel. Don't be so quick to hop on trends as they will fade; but if you remain authentic and produce quality content, you will always do well.

Have a real passion for your business and its goals.

Do it because you love doing it and because it fulfills your purpose! If you're only pursuing an opportunity to make money or because it seems trendy, it won't last. There will be times of lack and there will be times of prosperity, and it'll be that love for your business that carries you through both seasons.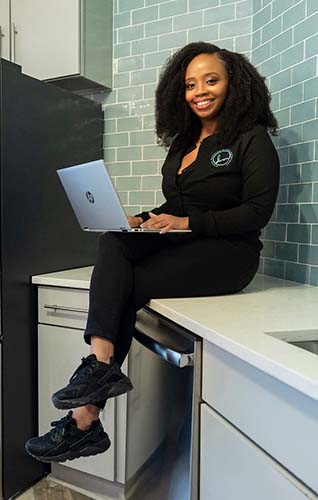 You can find and follow Digital Marketing Maven on Instagram and Facebook to learn more about Bivens' business.
All images by James Washington