The beauty industry has not always catered to people of color when it pertains to beauty products especially for skincare. The industry has made dramatic strides in the right direction because there are products available for people of color now specifically targeting our skin and melanin. Askia Innis is the latest serial entrepreneur, connector, caregiver, and mogul to launch a skincare brand for people of color. Askia started Doss Skincare to specifically support black men and women. If you're on a journey to obtaining clear skin while supporting black owned businesses look no further!
Please tell me what inspired Doss Skincare?
I'm so thankful for this moment in my life. A great deal of it is due to my mother. She is the inspiration behind Doss. At a very young age I always admire my mom's skin. She took great care of it. Today I am blessed to be the sole caregiver for my mom who is suffering from dementia. Doss is my way to honor my mother for all that she's given to my life and all the lessons learned.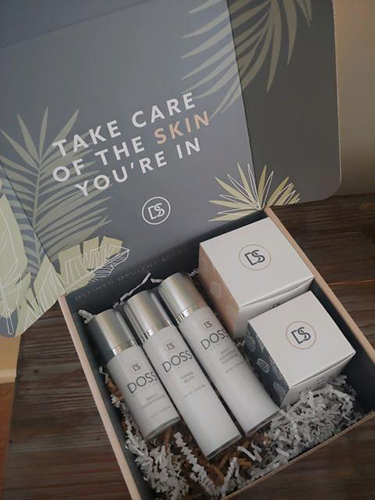 What are some essential tips to achieving clear skin?
5 suggestions would be to:
Wash your face twice per day.
Minimize stress in your life. Learn to relax.
Be sure to hydrate, exfoliate, and moisturize regularly
Applying sunscreen protects the skin from harsh elements in the environment and harmful rays from the sun.
Use products that are natural and organic full of nutrients and vitamins that nourish the skin. Doss Skincare is just that product.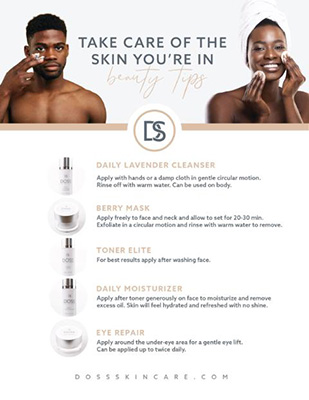 What kind of ingredients are included in your products?
Doss Skincare products consist of all natural and organic ingredients.
Which products do you recommend for problematic skin?
Depending on your skin type and the challenges you may be experiencing it can vary but the main point I want to leave with you is to use products that are natural/organic and void of chemicals.
When will Doss Products be available for purchase?
Immediately….right now!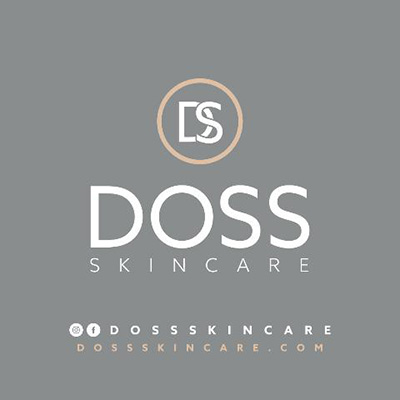 For more on Doss Skincare, click here.
All images by Doss Skincare