As most local states begin to slowly open up, many of Americans overseas are still under quarantine. Having been in Atlanta for over thirteen years, Sharay Braddy chose to take the brave step three years ago by teaching overseas in Kuwait. Still fuming from excitement from graduating Kennesaw State in 2016, it was her dream to eventually teach in Dubai. It was then that Sharay decided to take the leap of faith and start her teaching career.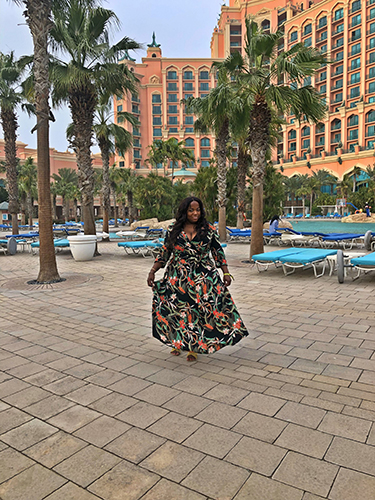 "I've always wanted to teach overseas," said Sharay.  "I wanted to see how other countries view education, and I wanted to learn something new and different." Kuwait is located in Western Asia bordering Iraq and Saudi Arabia. With Islam being the main religion and Arabic being the language of choice, Sharay has not found much difficulty completing basic task due to the language barrier.
No one can imagine how it feels to be stuck in another county with no family and limited places to go. Somehow, Sharay has managed to stay busy during this crazy pandemic. As she continues to teach online, she has been taking the quarantine very seriously and using her time wisely.
"My school is doing distance learning," Sharay says. As it has been a rewarding challenge meeting the demands of teaching online. Not being able to be hands on has been her biggest challenge. However, she says that she can do more interactive games with her students to keep them engaged. "My students are stepping up to the plate and I am very proud of them," Sharay gloats about when asked about her students.
When she isn't teaching, Sharay makes sure to keep in contact with family and friends in the U.S. "Talking with family and friends regularly helps keep my morale high," she excitedly states especially when she is homesick. Journaling, exercising, and taking daily walks have all been incorporated into her daily routine. Since there aren't many places to go, she has made sure to schedule some self-care time such as taking walks, cooking healthier meals and exercising when she is not completing lesson plans or grading papers.
According to the Center for Disease and Prevention (CDC) website over a million U.S. citizens and counting have been confirmed to have the coronavirus. From celebrities to the everyday working person. No one is exempt. With the death toll rising as barbershops, malls, movie theater and local daycare centers open, is it safe to convene as it has only been a month since several states have had the Stay at Home Order. When asked how she would feel if she were back in the U.S., Sharay gave an interesting answer as her safety in the U.S. would be more at risk than in Kuwait.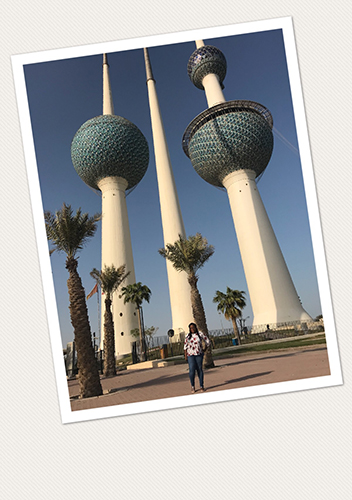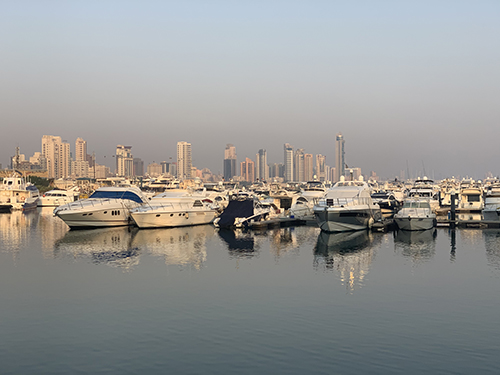 "I feel safer in Kuwait than I would in Atlanta," she says.  "Although the number of infected people keeps rising it's nowhere near like the United States. With the curfew being implemented and the closing of all public places that has helped to reduce the spread of the virus. I do plan to come back to the states eventually, I just haven't decided when I'll return."
With some areas on 24-hour lock down and all public places closed in Kuwait except for supermarkets, hospitals, and pharmacies. There is a 5:00 pm curfew for Salmiya where Sharay currently resides, which is a five minute walk from the Kuwait Towers. To add to preventive measures to spread contamination of the virus, Sharay mentions that no one is allowed into the supermarkets without a mask, and they offer testing to those who are flying back into the country.  So Kuwait is taking preventive measures to contain the virus versus many U.S. cities and states.
As for advice for anyone that is debating to overseas or stuck at a stand still in life. "Take the leap!" Sharay exclaims. "Don't be afraid of falling. The joy in falling is that you have the ability to get back up and try again. Make your dreams your reality"
This feature was submitted by Monica Thorpe | all images provided by Monica Thorpe
Monica Thorpe is a travel writer from Atlanta, GA. A graduate of Clark Atlanta University, she has always had a passion for writing and traveling, but it wasn't until she took her first solo/international trip that she decided to combine both. Thus, The Wknd Nomad was born. You can learn more about her by following her on Instagram.