There is nothing, and I mean absolutely nothing pretty about a head full of grease but don't get it confused because a little oil is necessary. Regardless of what hair type you may have, having a good go-to hair oil is essential in your beauty routine. In my personal opinion, I feel like when someone mentions the word 'oil' in a conversation about hair, the vibes totally shift. Why are people so afraid of hair oil? Well, there are many reasons besides the fear of the product making your hair appear greasy. For an avid user of heat tools (like myself), hair oil is needed! Speaking from personal experience, hair oil has saved my hair time and time again. Of course, hair oils should be used with a lighthand but finding the right hair oil for your hair type can be hard. Today, I want to make the process easy on you by sharing with you a hair oil that is great for all hair types.
This week's SHEEN Product Pick of the Week is Congo Professional's Restora Treatment Oil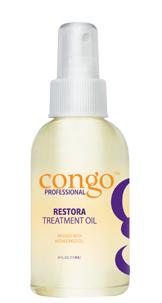 Congo Restora Treatment Oil (4oz)
This hair oil has not only transformed my hair over time but it has helped it get back to a healthier state, almost immediately! Congo's Restora Treatment Oil is formulated with Cocos Nucifera (coconut) oil and Persea Gratissima (avocado) oil – both ingredients are known for their magic abilities to transform the hair. I love how shiny and silky it makes my hair. I personally love that it comes in a spray bottle because it helps me control the amount I apply to my hair. I spritz a small amount into the palms of my hair and apply it evenly throughout the hair. It's great on damp or dry hair and in addition, you can use it on days you aren't doing anything special to your hair or right before you add heat to your mane. One of my pet peeves is the flyaways on my head and this oil does a great job of taming those little babies. I can't stress how great of a product this is. It softens my hair and erases the dull split ends on the hair.
All images obtained from Congo Professional