If you're on the market for a long-lasting product that will keep your braids, locs, twists, and ponytails in place all day then I've got the perfect product for you.
Specifically formulated for professional stylists and braid specialists, Nairobi Professional's Braid N' Shine Gel is a product you need on your radar.
Not only does it guarantee extreme hold throughout the day, but it ensures that you go about your day without worrying about frizz, odor, or humidity shrinkage.
It is formulated with Aloe, Avocado, and CBD.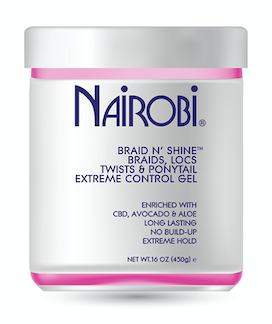 Nairobi Professional Braid N' Shine Gel
Aloe: Say goodbye to dandruff and an itchy scalp. The aloe in this product helps promote healthy hair growth.
Avocado: The avocado in this product provides the hair with a great amount of hydration. It's is perfect for the fall/winter weather as the temperatures begin to drop. Dry hair is not and should never be a thing!
CBD: It not only nourishes the scalp, but it also works as a double agent by strengthening your hair upon use.
Nairobi Braid N' Shine Gel is available in 16oz. It is specifically made for professional use only.
For more information, click here.