I'm back with another great product to highlight this week! This week's product pick of the week is Nairobi Professional's Wave, Curl & Styling Waxx. For someone that uses a great amount of heat for styling my hair, I am so glad to have found this product from Nairobi Professional. It is a popular product among stylists across the nation and for good reason! I was lucky enough to get my hands on this product so here are my honest thoughts.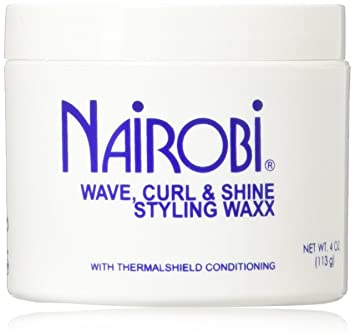 Nairobi Professional Wave, Curl & Styling Waxx, $14
Nairobi Wave, Curl & Shine Styling Waxx has quickly becoming one of my go-to products. The product is formulated with a botanical blend of natural oils, which is the main reason why I love it so much. The natural oils not only protect my hair when using heat tools but it does a great job of giving my hair a little life and shine. The aloe vera and shea butter is hydrating on the hair without weighing it down. It does not have a greasy-feel which I believe we can all appreciate. The good news is that a little goes a long way! For the price and the amount of product you are getting, you just cannot go wrong. I love a good high quality for an affordable price. I also love that you can use it for many things besides protecting your hair against heat application. You can also use it to crimp wave, add shine and hold for hair pieces and the hair overall, and of course hot curling.
Have you tried Nairobi Professional's Wave, Curl, & Styling Waxx? Let us know your thoughts in the comments below!
For more information on Nairobi Professional and to purchase your products today, click here!