With the beauty space evolving by the minute; it's hard to play trial and error with the release of new products constantly. I'm someone who loves their hair so I'm super hestitant about trying anything new. In addition to being so particular about my hair, my hair is unique in it's own way as everyone's hair is. There are certain products that my hair loves and there are a bunch of yucky ingredients in hair care products that my hair does not like. When I found Congo Professional's Mello Moisture Instant Hydrating Shampoo and Conditioner, I knew I wanted to give it a try upon first picking up the products. The brand, best known for their products for all hair types – especially natural is adament on selecting the ingredients that they formulate into their products. I loved that most of the products on their line include mongongo oil, coconut oil, and even hibiscus. For someone with serverly damaged hair from heat tools such as straighteners and curling irons, I knew I had to give this duo a try and I'm so glad I did! Here are my honest thoughts on Congo Professional's Mello Moisture Instant Hydrating Shampoo and Conditioner.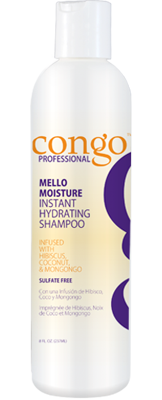 Congo Mello Moisture Instant Hydrating Shampoo | available in 8oz and 32oz
I love this shampoo. I wash my hair about once or twice a week but I believe this shampoo is gentle enough to be used everyday on the hair if necessary. It does not strip away the moisture of my folicles, which I love because I'm someone who has a hard time finding a shampoo that won't dry out my hair. It contains coconut and mongongo oil, perfect for detangling the hair when wet. I love that I can apply this to the scalp and throughout the hair without worrying if I'll find knots in my hair. It may be gentle on the hair, but it so powerful when it comes to cleansing. I've also noticed that it has smoothed out my hair's cuticles as well. My hair always feels so soft and looks silky smooth after washing.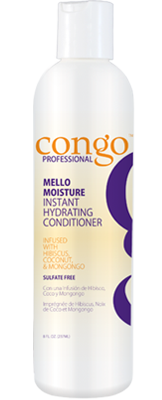 Congo Mello Moisture Instant Hydrating Conditioner | available in 8oz and 32oz
I couldn't think of a better, lightweight conditioner to apply on my hair than this one. Perfectly paired with the shampoo, this conditioner is so nourishing. It also contains mongongo oil, coconut, and hibiscus oil so it makes the hair super soft and detangles it easily without discomfort. I think my favorite part about this conditioner is that it does not weigh down my hair. I apply it the ends of my hair and leave it sitting for about a minute to three minutes before rinsing.
For more information on Congo Professional, click here.