Today's SHEEN Review is dedicated to Bossy Cosmetics – a brand created by a founder who loves all things lipsticks. The "lipstick junkie" went on a mission to create a brand that not only empowered women but also to offer cruelty-free products! I was lucky enough to try two products from Bossy Cosmetics! Here are my honest thoughts.
The Bossy lipsticks are amazing! They are incredibly soft and the applicator brush feels like a pillow! The lipstick has a buttery light feel that creates a comfortable wear. They are long lasting, and about 70% of it stayed on after I finished eating.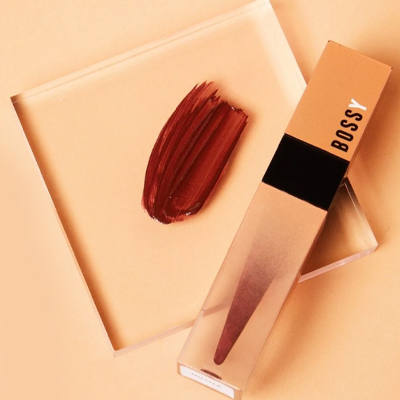 Hustle, $26
My favorite color is Hustle – a brown with a very subtle purple tint that will make people take a second look. I really like it since it gives an edgy twist to a lot of different looks.
Bravery, $26
I also really like the color Bravery. It really adds a bold pop of color to make you stand out. I wore it last week with an all black outfit and loved it. I highly recommend these products!
For more information on Bossy Beauty, click here.