Beauty oils are hot in the skincare market and honestly, they should be! They are so underrated in many ways and while I had to get over my fears of incorporating oils into my skincare routine, I know that I'll never go a day leaving it out of my routine again.
Today's SHEEN Review is dedicated to Drunk Elephant's Virgin Marula Luxury Facial Oil.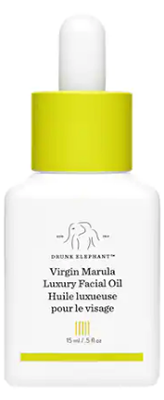 Drunk Elephant Virgin Marula Luxury Facial Oil, $72
I hope the price of this bad boy did not scare you away. Hear me out if you will! This product has become my saving grace. Normally, I have more combination-oily skin, but here lately, I have been so dry! It may be because of the summer heat or if I'm honest, not drinking enough water but! Nevertheless, Drunk Elephant came in and save my life! This product is so lightweight, hydrating, and it has a light scent. I love how hydrating it is on the skin. It leaves my face looking stunning for the days that I chose not to wear makeup. The glow is fabulous and it absorbs right into the skin. As someone with sensitive skin, facial oils have never been my favorite but I've completely changed my mind after using this product for a few weeks. The best way I have found to apply this product is to use it in conjunction with a moisturizer. After that, my skin is prepped and ready for whatever I decide to do with it that day. Whether you're normal, dry, have combination skin, or oily – this product works great for all types. It has addressed the issues I've got with my skin that include fine lines, wrinkles, and dryness.
For more on Drunk Elephant, click here.