Finding the right heat protectant for your hair is so important. It's a product that you cannot go without, especially if you apply heat to your hair as often as I do. I will say that at the beginning of my hair styling journey, I didn't ever happy a heat protectant [hair stylists, don't kill me]. After finally waking up and listening to my hair stylist, I went through trial and error to find the right products for my hair. I'm a very particular person when it comes to my hair, ask anyone that knows me. It's my confidence. I always want to make sure it looks healthy and is in that state. I recently got my hands on L'ange's Rival Heat Shield and have been loving it.
Today's SHEEN Review is dedicated to L'ange's Rival Heat Shield.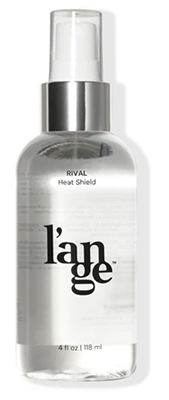 L'ange Hair Rival Heat Shield, $23
I've been loving this lightweight heat protectant on my hair. It's done wonders at protecting and strengthening my hair every time I style with heat, which you guys know is quite often. My hair can hold a lot of product because it is so thick, but I love that this does not weigh my hair down. It's ultra-shiny on the hair and I've noticed a huge difference by using it everyday. I've tried so many products from L'ange, but this one hands down is my favorite. Lastly, it reduces the amount of frizz my hair accumlates through the day, which was a no brainer for me. I know this one will be a go-to for me until another brand can prove otherwise. Have your tried products from L'ange before? Let me know which of their products is your favorite in the comments below.
For more on L'ange, click here.