Anybody that knows me knows that I absolutely love candles. I have way too many in my collection but let's be honest, is there such a thing as having too many candles? Never, the answer is never!
I recently stumbled upon a small candle company located in North Carolina and let me tell you, I'm addicted. This vegan and eco-friendly candle company not only uses natural ingredients but I love the fact that they keep their formulas clean to be considerate of not only humans but also our four legged friends. the scents are so simple yet earthy, it truly makes my home, well homey.
Each candle contained cotton wicks and are free of those nasty ingredients most candles contain such as phthalates, dyes, lead, and parabens.
Naturally, I had to share my latest addiction with you all. Check out a few candles I've been loving from Lit Moments below!
FOR HER, $30
This pink peony + dark rose candle smells so clean. I'm a huge fan of clean smelling candles, it just takes me back and relaxes me no matter what mood I'm in.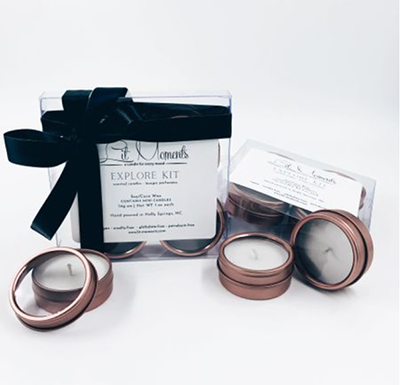 EXPLORE MINIS, $15
I love this mini set from Lit Moments because it comes in packs of four. They look so elegant around my home and I love the idea that you can try out candle fragrances before comitting to a larger candle. They're just too cute for words!
For more information on Lit Moments and to purchase your candles today, click here!
All images obtained from Lit Moments