If you haven't heard of Mylon's Natural Hair Care System then get ready because I'm about to put you on! The brand – known for their nourishing products that replenish damaged hair is definitely one you need on your radar. I have had so much playing trial and error during the entire quarantine [no literally, I have been testing out new haircare products since March 2020]. For someone with hella trust issues when it comes to hair products I'd like to say that I'm quite proud of myself.
I'll admit, this process has been so easy because I have been lucky enough to try products that are so high in quality. One of the brands I have tried during this "down time" is Mylon's Natural Hair Care System.
With a focus on replenishing the hair, I had to get to know more about them. Products from their line are handmade with the customer's in mind – they have a team of experts that study the anatomy of the hair. So they claim they know what my damaged hair needs, well! I wanted to give it a try myself and see. Here are my honest thoughts two products I have been testing out from Mylon's Natural Hair Care System. Today's SHEEN Review is dedicated to Mylon's Natural Hair Care System.

Mylon's Natural Hair System Nutrient Leave-In Conditioner, $7.99
This leave-in conditioner has done absolute wonders for my hair! It is so nourishing on my dry hair, I cannot quit raving about it. I found that it instantly made my hair super soft and throughout the day, I believe it was what kept my hair less frizzy. It contains a great amount of vitamins in it and along with that, it protects the hair from heat and chemical damage. The one thing that I'm always iffy about when it comes to a leave-in conditioner is the possibility of it weighing my hair down. My dry hair has absolutely loved this leave-in, especially during this time of the cold winter months.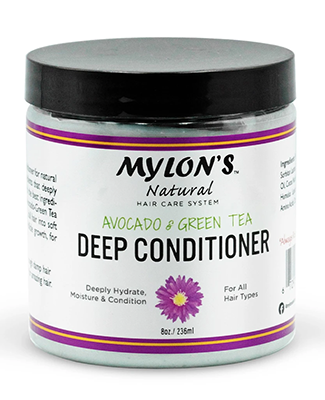 Mylon's Natural Hair System Avocado & Green Tea Deep Conditioner, $14.99
On the days that my hair absolutely will not cooperate, I love giving it a little TLC with this deep conditioner. It not only makes my hair super smooth and shiny, but it adds moisture back into my hair when it's feel dull. I love that this product was formulated with natural ingredients. It has also helped prevent breakage and split ends. My hair's texture has seen such a dramatic difference since using this deep conditioner. I leave in on for about ten to twenty minutes and I find it great because it was made for all hair types.
For more information on Mylon's Natural Hair System, click here.