I know I don't stand alone when I say breakouts and surprise pimples are the absolute worst! As someone who combo/oily skin, acne is unfortuantely something not new to me. Ever since I could remember, I have always been on a hunt for a acne treatment that would support and balance my acne-prone skin. Lucky for me, No7 Laboratories had my back, I only wish I could have discovered it sooner.
Today's SHEEN Review is dedicated to No7 Laboratories' creamy clay formula product that gently removes oil and impurities on my skin to perfection, the Acne Treatment 2% Salicylic Acid.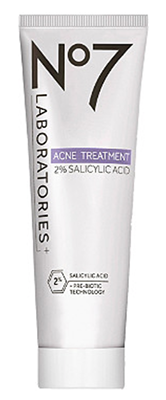 No7 Laboratories Acne Treatment 2% Salicylic Acid, $22.99
This acne treatment has been a saving grace in our household for all ages. me (26 years old), my mother (49 years old), and my brother (19 years old) have been using this to quickly dry up those pimples that surprise us day in and day out. For me, I love that it dries out the pimples without actually leaving the skin dry. It has been the only thing that has helped me clear up breakouts quickly. My mother has noticed a great difference in her skin and loves the fact that it is not greasy on the skin or feel oily. Unfortuantely for my brother, acne has been something he's been struggling with for years. I call that adulting! Whether it was the acne or the scarring that came after it, this product almost got rid of all of his acne overnight. Now, with more clear and heakthy looking skin, he keeps this product in his skincare collection at college and it has become his must-have product.