Spongellé is best known for its infused body buffers, but let me tell you the entire brand in existence is one you need on your radar. Not only are their products dermatologist tested and hypoallergenic but their products are gentle on the skin and ultra-moisturizing. I am a huge sucker for skincare products, but I have to be careful because I have very sensitive skin. I've recently discovered a product that you absolutely need to know about and of course, I've got all the details surrounding it.
Today's SHEEN Review is dedicated to Spongellé.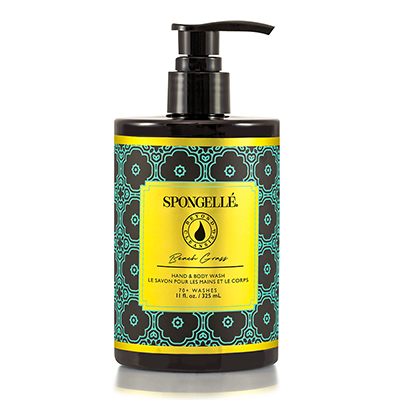 Spongellé Beach Grass, Hand & Body Wash, $22
I have been loving this hand and body wash from Spongellé! It has a gel consistency, yet is so creamy and luxurious feeling on the skin. I love that it has a pump because it makes my shower experience a little bit easier. I've noticed a huge difference when it comes to moisture. It's super soothing and has many of my favorite skincare ingredients such as jasmine and rose. In addition, the brand is vegan friendly and cruelty-free – which you all know we admire here at SHEEN. I promise you beauts, you will never want to go back to your normal hand or body wash again after using this product. I'm currently loving the Beach Grass scent, but there are eight total options to choose from. There's French Lavender, Honey Blossom, Coconut Verbena, and more!