After her debut EP, In & Out, Journey Montana is keeping herself busy, while ensuring her fans stay in tune with her music. Ahead of the New Year, we had the chance to sit down with the multi-talented singer and actress to discuss the release of another project, her time working on the hit series All American, and much more.
Can you tell us about your start in music?
Really ever since I was a little girl. I grew up around music. My dad was a singer as well. In my family, everyone was always singing and playing instruments. In church, I was in the choir, so music was always a part of me. You know, in high school there was a time where I said I was going to get serious about it. I started doing covers and taught myself how to play the piano and write songs. I would say in 9th grade was when I got serious about it, but I've always known that music was what I wanted to do.
Tell us about your single, "Good Girl" and "Bad Girl"?
Well, I just turned 19 but when I wrote those singles, I had just turned 18. It was kind of like me expressing the changes that I was going through. Going from "Good Girl," that everyone knew, always doing what she was told to do. It was a time where I showed a different side of me. It was me expressing the changes and transition from the normal girl everyone knew to the more grown up Journey.
How would you describe your experience working on the hit show All American?
My experience has been great. We're still filming right now. I just got back from filming a few days ago. It's been great! Everyone is super welcoming. They always say actors on that level are stuck up, but no one has been like that. It has been a great experience all around. I'm really just excited to get into this acting world. It was a great first experience, everyone is amazing. From makeup artists to the cast members. Everyone's been welcoming and they even play my music on set (laughs). They're all really great people.
What are you working on now and what can we expect to see from you in 2022?
I'm currently working on my next project. It is slated to release in 2022. It's a two-part project – I don't want to say too much, but expect more visuals, interviews, and getting more in the mix. There is more acting, I'm working on a lot of stuff. Growth is the main thing coming in 2022. I'm excited to see what the future holds.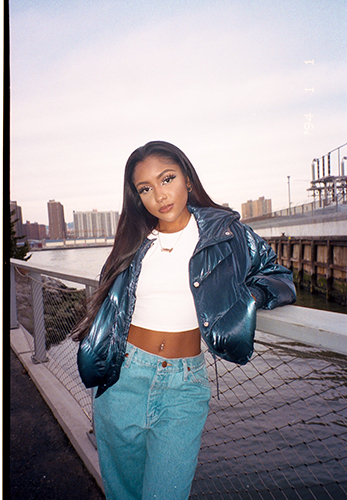 For more on Journey Montana, follow her on Instagram & Twitter.
All images by Kumo Shai