Actress KJ Smith is proudly using her platform to share the messages
everyone needs to be educated and informed.
Her energy introduces her long before her words do, while her charisma gives her the ability to connect with everyone in the room. The way she sashayed in the room on shoot day and took the time to learn everyone's name was admirable – not at all what most wouldn't expect that from a starlet. Her name is KJ Smith, most of us met her as she portrayed guest roles on shows such as Queen Sugar, Being Mary Jane, and Black-ish. KJ has unapologetically made the decision to create the life that she's always wanted. Whether that means starring in a hit show, such as Sistas on BET or showing up for herself as she continues to embark on a 10-year health journey to improve her quality of life – KJ continues to power through it all.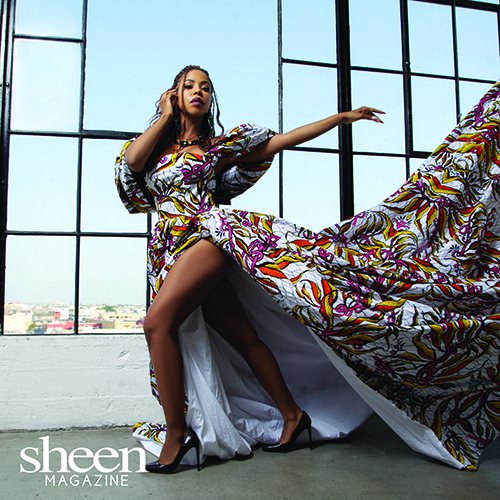 The series showcases the lives of four single black women as they navigate through their professional and personal lives. KJ plays the role of Andrea Barnes, a hardworking lawyer with a certain seriousness about her, which isn't something KJ feels she resembles in her own life. "In the episode, That Look when Andrea kind of lets her hair down, I felt like that was closer to my actual personality (laughs). I'm a more laidback version of Andi – I say what I feel, I do what I want, and I worry about the rest later. I feel that was the most fun episode [so far] because I'm not the comedic relief on the show. My character is very serious. She takes her job, her man, and her friendships very serious. She was able to have some fun. Yes, it was toxic and self-sabotaging, but fun, and I actually had fun shooting it too! (Laughs)"
She prides herself by using her raw and real emotions to play the character. When asked how love and a career may go hand-in-hand she simply said, "I would like to see that [for Andi], and I honestly don't think it's too late to see it. Our show is really watching us evolve and grow into our raw real selves."
"I've taken my career to a platform [with BET and Tyler Perry] that I'm very proud of. It's allowing people to visually tell black women's stories. [My character, Andi] is a lawyer, wearing a natural hairstyle and we just had the CROWN Act created! It's changing on the surface level as a part of the revolution. We shot on a land that was once a confederate army base. We're making history and we're working with someone (Tyler Perry) who is making history in so many areas," KJ reflects on her journey as Andrea "Andi" Barnes on Sistas, which continued to make history in its second season by safely filming during the quarantine of the worldwide pandemic.
KJ stresses the importance of using her platform to educate and entertain. For this reason, she makes sure to use her influence for good and to give back. Whether that be directing her non-counterparts so they may receive more information to sign up, donate, and protest, or creating content. Black Excellence, a film starring KJ, brings the Black family back together. Now that her platform has gotten larger, KJ is proud to know her message is being received by the masses. She continues on by saying, "I am a Black woman in America who is fighting for her people and I have a voice in my personal life that people can listen to. And in my work life, I'm making history with an icon in this industry."
While being the modern-day superwoman she is, self-care is something that KJ is heavy on. In trying to save the world and knowing her fanbase are her people, she notes her therapist often works with her to find the balance. Smith believes the key to staying healthy and having vibrant skin (simply put) includes a lot of sleep and water. "People always think I work out a lot because I used to be a heavier woman, but I contribute it to wanting to reduce my stress. That's how I stay healthy. Younger girls come to me and want to change their entire diet and exercise two hours a day, which shakes up your body. Your body wants to store the fat because it feels like there's an emergency. I'm not kidding you when I say, add more hours to your sleep, cut out just one thing (i.e. stop eating steak three times a week, stop eating bread with every meal, etc.) and that can equal results. Once you see the change from that one thing, you won't have to be motivated anymore because you'll see it and want to cut out more. It'll naturally happen, but when you force it, you don't get anything. I do it all the time when I get a role and instantly think, 'I gotta get in shape.' I'm not telling people to not workout, I've been on this fitness journey for 10 years and I'm a well-oiled machine. For me, I look better when I lay off a little bit and my body has time to relax."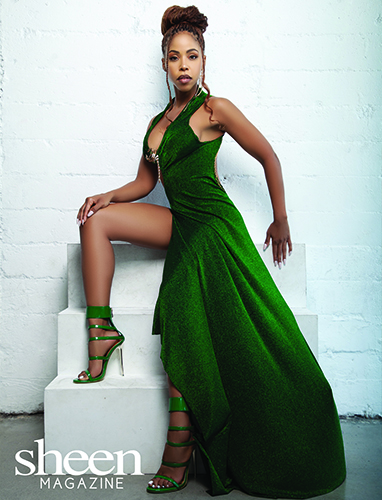 Noting that tribes are in fact very important, KJ wants us to adapt our ancestorial roots by building up our own villages and taking care of one another again. "I think it's essential to find your tribe. I found my tribe in LA and that's when I started seeing success. I have people I can call on, people I could get advice from, people whose couch I could sleep on – and now there's like a reciprocity in this exchange. We move to these big cities alone and become Miss Independent, we all are singing Lil Boosie – It wasn't until I realized, I couldn't do any of this by myself. I just think it's imperative for success, that I can call someone and say, 'Hey, I need $10 because of XYZ.' My tribe has gotten me out of so many jams and I've gotten my tribe out of so many jams, it could be a movie."
KJ Smith is definitely marching to the beat of her own drum and we love to see it! Expect to see her in The Available Wife coming to BET in April and the numerous other projects she'll have coming to other networks soon.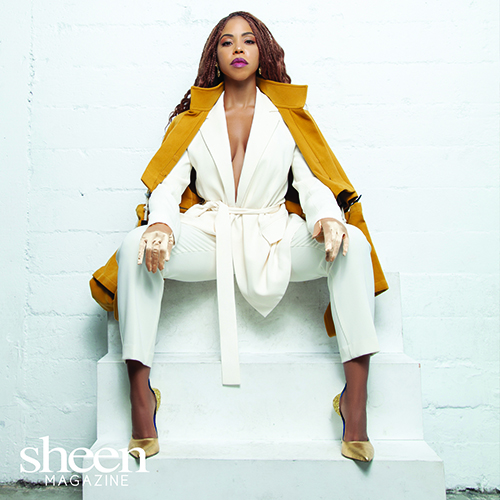 For more information on KJ Smith, follow her on Instagram & Twitter.
CREDITS:
Interviewed by Jelisa Cook
Written by Kristyn Harris
Photography by Jeremiah Drummond
Makeup & Hair by AD Lewis
Style by Winnie Stackz