Luxury products at affordable rates are a drawing point to skin care lovers. California based brand; Ice Body Skin Care is a planet based line for all of your skin care needs. Developed by Vickie Brown, she set out to create her line to be safe on skin and healthy for the body. Brown who is an Air Force Vet, handmakes each product to order she says, "When you et ton doing mass production and using heavy machinery, it usually involves using chemicals to preserve the products depending on the type of product. There will be some "natural" preservatives, but the product still would not last as long as those chemically processed." The new wave of plant based living has sparked worldwide from eating to skin care remedies Brown says; "natural products without chemicals have a less chance of causing breakouts, irritations or the like."
How did you get started on your entrepreneurship journey?
I started making my own skincare products years before I actually went into business. My daughter, Deja, urged me to go into business; however, at the time I was working a full-time job as well as attending college full-time and felt I could not add anything else to my plate. Deja then took it upon herself to start the business during her senior year in high school then promptly asked me to "take over" the business" while she went on to college. Once I started working the business, I quickly found my passion, making luxurious, skin-loving products not just for myself and family but for the world to indulge.
What are some obstacles and victories that you have experienced while be an entrepreneur?
Some obstacles that I have experienced while being an entrepreneur include being a "do it all" meaning I was responsible for all aspects of the business. This encompassed being in charge of product making, marketing, shipping, keeping up with inventory, product photography, and all the other details associated with running a business. I lacked experience in some of these departments and as such found myself struggling through it. Making the decision to reach out to others who had expertise in the fields I was lacking was the best thing I could have done for the business. A major victory that I have experienced while being an entrepreneur is getting our products into the hands of several well-known celebrities thanks to our partnership with The Divah Filez. Another victory is that we will be celebrating our sixth year of being in business this year. With dedication and hard work, we have been able to sustain while experiencing growth.
How were you able to pivot during the 2020 pandemic?
COVID-19 rush throughout the United States like a raging bull. Many establishments and small businesses were forced to close their doors because big crowds or being in such close proximity of others were not allowed or suggested, for fear of being next in line to catch the disease. Our business is run through our website; however, we also rely on selling our products at public events through vendor opportunities to generate income. Being based in California, we went under very strict restrictions and all public events were canceled and/or postponed. After being on lockdown for a month, I got the idea to host a Girls Night In Spa Party with my family and close friends via Zoom. This turned out to be a great evening of laughter, sharing, learning about skincare and some much-needed socialization. My niece then asked about hosting a Spa Party and from there we continued to get more bookings and it fast became a way for us to introduce our business to new customers.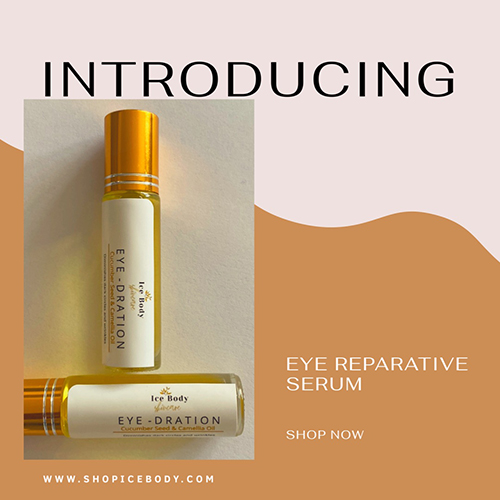 How are you approaching business post 2020 mentally?
While 2020 was very challenging because of COVID-19 as well as continued racial injustices throughout the country, I am motivated to continue sharing and growing my business. I know not to keep all my eggs in one basket and to be open to stepping out of my comfort zone and trying something new.
For more on Ice Body Skin Care, click here.