Best known for his breakout single, "Rolly Polly" back in 2013, Mr. Killa is continuing to break down barriers in the world of Soca music. As a cultural ambassador for the country of Grenada and the co-founder of Rebel 1 Entertainment, Mr. Killa has made it his mission to put Soca music on everyone's radar, no matter where they're from. We had the chance to sit down with him to discuss what it was like creating the theme song for Real Housewives Ultimate Girl's Trip, all things music, and much more.
Tell us about your role as cultural ambassador for Grenada.
So, I think after all my achievements internationally, my commitment to giving back to the entertainment world is what influenced it. I believe I was a cultural ambassador for Grenada since before I was officially given the title (laughs).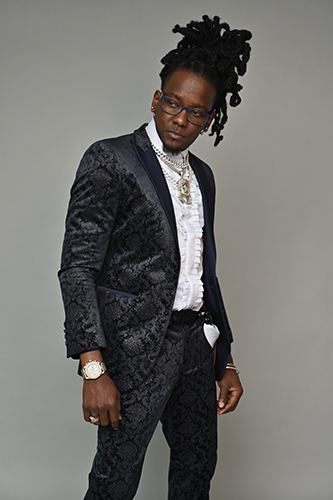 What was it like creating the theme song for the Real Housewives Ultimate Girls Trip?
It was an exciting experience. Not just an experience but an opportunity. Soca music as a whole, for me is not even classified as its own genre of music internationally. Soca artists have been trying for years to actually take Soca to the next level on national television, the Grammy Awards, anywhere that great music deserves to be honored. Having this opportunity to create and produce the theme song for Real Housewives Ultimate Girl's Trip was an extreme pleasure. It was a great opportunity for Soca music as a whole. The executive producers contacted me with the idea to bring a new sound for the Housewives. The collaboration was meant to be. I would say it was an extreme pleasure, I am grateful.
What inspired Rebel 1 Entertainment?
Rebel for me started a long time ago when I finished school and began to dig deep into entertainment. I wanted to understand my role in entertainment, not just on stage but in the business world of it. I've always been curious. We were not taught the business of music in the Caribbean. I started to study and realized that there was a big piece of agitation when it comes to music that was missing. I wanted to create something to facilitate that. I wanted to create something that would help us, because we were not getting paid for our music, streaming and apps are a problem in the Caribbean. When you look at our numbers in streaming, it is low – simply because the Caribbean does not have the access. I came up with Rebel – because I saw that we go against the grain. That word is not all the time negative. A lot of times, people that go against the grain are people who change the world. Every lesson in the world means something to us. Rebel stands for breaking the limitation that we have in the Caribbean and us as people in our music. Rebel 1 Entertainment is not just distribution, it's a distribution and publishing company. It's also a music library. Rebel 1 also has a live music band and production, film and audio, and we are an umbrella company. We will be launching soon. You will find online shops, online production, distribution, publishing, and more. You can find promoters, DJs, everything – it's your one stop shop – not even a shop, it's a supermarket (laughs). I want to create a family with Rebel 1.
What are you working on now and what can we expect to see from you in 2022?
I'm working on new music that will tap into different genres and parts of the world. I'm creating different collaborations with artists and creating music that can fit in the afro-pop/Soca/dance hall world at the same time. I think creating that flavor will help show the versatility of Soca artists. It will open the gate into bigger genres and arenas of music. We are working on the Rebel 1 Entertainment website as well.