Southern Crescent Women In Business hosted their Second Annual Funding Pitch this past Fall 2020 on September 17th 2020, virtually, from 6pm to 8:30pm. Due to the pandemic, they were forced to pivot to an online platform, but the experience did not lackluster. From live performances from member DJ Kandy @kandygirl_11 and a specialized performance from Singer Markithia Haynes, and an amazing panel of judges, the 2nd Annual Pitch was able to successfully pivot. This year 3 winners were chosen by the judges.
The First Place Place Winner was Amber Woolfolk of Solve Tutoring. At Solve Tutoring students have a plan and academic coach assigned to them specific to their grade level and individual need. During sessions enrichment takes place in a secure, visually inspirational and motivational, monitored, and positive environment set for learning. The staff works closely with students managing heavy schedules packed with athletics and activities. They incorporate best practices to tackle time management, goal setting, organizational skills, how to overcome test anxiety and create better study habits. In December of 2018 after a year of struggling to help all students and never turn a child away – Solve Cares Inc., was established to provide scholarships, books, technology and supplies that were necessary to be successful. According to the female led organization and its CEO, Amber Woolfolk, "Solve Tutoring is a force to be reckoned with because we not only care and build strong relationships with the families and communities we serve but we also focus on major pain points for parents when it comes to flexibility, availability and subject matter knowledge. Our academic coaches and tutors are some of the best and brightest talent I have ever seen, and we are here to stay" Solve Tutoring received a monetary cash prize of $2000, a business strategist sponsorship with Maxine Cain Business Strategies, future opportunities with Technology Association of Georgia, and the full support of Southern Crescent Women In Business. With the winnings, Solve Tutoring has moved into their third location and is offering over 40 hours of complimentary tutoring to those students who need it the most. Southern Crescent Women In Business is honored to be a part of transformational and meaningful acts for small businesses, women owned businesses and the community. With three locations, Woolfolk's "goal is to build this company to become the Nation's quality and affordable tutoring resource for 3rd-12th grade student athletes."
The Second Place winner is Dr. Tremaine Jones Afetorgbor known as "Dr. Flava." Dr. Tremaine Jones Afetorgbor is a licensed Pharmacist for over 15 years and now a full-time Entrepreneur. Dr. Flava created and formulated her seasoning line in 2017 with just 2 flavas then and grown to 12 unique blends. DR Flava Spices Takes the Thinking out of Cooking since each spice blend is formulated with 8 to 13 herbs and spices and perfect for all cooking styles and food varieties. Her line is sugar free, no msg and lowers sodium 85-120mg per serving. Dr. Flava's Second Place win came with a monetary prize from Southern Crescent Women, a complimentary executive level membership to SCWIB, and connecting her with Celebrity Chef Carlos Brown to assist her in getting the spices to market.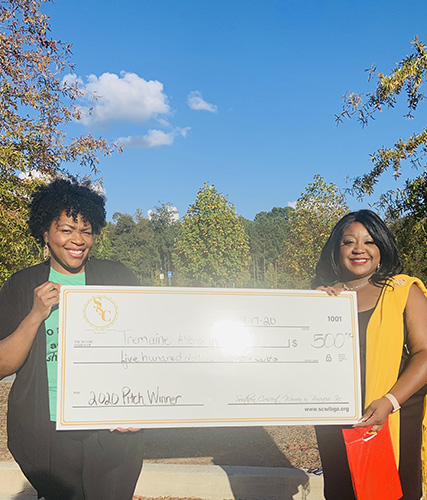 The Third Place winner is Renee Floyd of American Oil Changers, is 100% woman owned and disabled veteran owned business. Starting this business after retiring from the military, Renee is able to provide concierge service for cars such as oil changes and more. Southern Crescent Women In Business provided a monetary prize from Southern Crescent Women, a complimentary executive level membership and was offered a personalized approach to best assist Renee in the contracting space. After starting American Oil Changers, Renee's motto says for the business is "We bring the change to you!" to give people back their most valuable asset; time."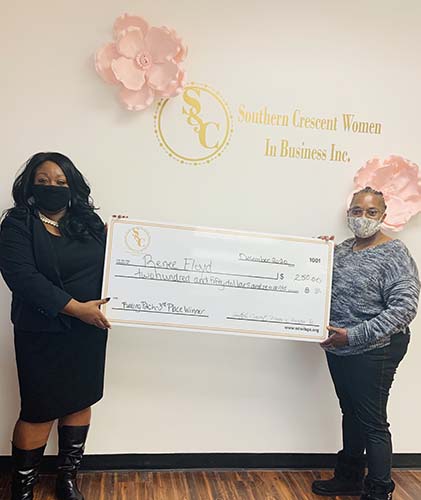 Southern Crescent Women In Business, is excited about the opportunity to help fund a woman-owned business and help with their own ecosystem for the second time. "It was important to move forward with this pitch during this pandemic and to facilitate continued support for women owned businesses and small businesses," said founder, Ariel Shaw, MBA.
Sponsorships for the Funding Pitch included but is not limited to the The Henry County Development Authority, Heritage Bank, Georgia Power, Henry County Water Authority, Clayton County Development Authority, Pete's Caribbean Bakery, AS Consulting LLC, Coaching Forward International, Richard Sylvia, MBA, Alternative Financing, Alzheimer's Services Center and more. Partnerships include a Media Partnership with SCBTV and a PR Partnership with Positive Press PR.
ABOUT SOUTHERN CRESCENT WOMEN IN BUSINESS
Southern Crescent Women in Business (SCWIB) is a conglomerate of women owned businesses and women in business that have come together to change the economic landscape in the Southern Crescent area. With active Chapters in Henry, Fayette, and Clayton and Dekalb. Our partnerships go beyond the Southern Crescent and Georgia. The mission for Southern Crescent Women in Business is simple. It is to unequivocally foster business relationships to help sustain and grow our business and local economy. Our vision is to develop key partnerships, deepen business relationships and to provide resources to assist in the growth of women owned business. Find out more at www.scwibga.org.