Laila Pruitt is a 17-year-old actress, writer and director who is well-rounded and knows what she wants. 
You might've seen Laila on the big screen in 2012 in the movie drama Flight with Denzel Washington. Prior to that, she was a 5-year-old commercial actress selling gummy bears. It was her first audition, and she nailed on the first try. Today, Laila is snatching hearts as the little sister to Big Meech and Terry on the hit Starz series, BMF, Nicole. Continue reading to catch up with Laila, find out her inspirations, goals, and upcoming projects in our dynamic interview. 
How did you land the role as Nicole?
I got an audition for it, and I was just immediately enthralled by it. I was really interested in the story and the family itself and getting to play a pretty different character from who I am. I just fell into the research. It was an exciting audition process. After one audition, a few months later, they called my parents and said, "you got it." I was really happy.
How did you prepare? 
I listen to a lot of music, like a lot of 80s music, you know, NWA and similar rappers, to get into my mindset. And I also looked up videos of the Detroit accent to get the accent down because I'm from Atlanta. I don't sound like I'm from Detroit, so I had to figure it out as well. And then, I did a lot of research on the family and who Big Meech is.
You play various types of roles. What's your favorite genre to portray?  
It really just depends on the day if you're asking me as Laila. Right now. I'll probably tell you drama. I like to watch different scenes of people just pouring out their souls into their roles, and I think that's admirable. Not that they don't do that in comedy too, but it's just way more stealth and almost tangible in dramatic roles for me. I would also love to do some sort of sci-fi film with aliens or zombies where I could save the world and fight somebody.
Speaking of, you have a new film coming out – can you tell us about that?
Secret Headquarters! It's a movie about kids who end up finding out that one of their parents is a superhero, so they have to figure out how to fight the villain alongside him. My character's name is Star Girl. She's pretty sporadic and spunky. She witnesses everything that happens and makes for some pretty funny scenes. 
What's next for Laila Pruitt?
I am working on some of my own projects right now. I have a short film in the works. It's still in the pre-production stages, but we're almost ready to start filming that. And then I just started writing another script for a short film that I want to do later on. Ten years from now, I 
 would love to be a consistently working actor. Filming my own projects and getting funding for my own, my different things. So I can become established in that too. Like the great Shirley Chisolm, you've got to make your own seat at the table. 
With inspirations like Shirley Chisolm, Spike Lee, Will Smith, and Ava Duvernay – to name a few- Laila considers herself a social activist who focuses on educating herself and others about culture and social justice and many different movements. She advises fresh young actors to get out of their own way, be mindful of how they speak to themselves and give their all. "Nothing is perfect," she said. "I put my best out there, and that's really all anyone can ask. So, you know you are what's going to propel you forward or what will hold you back."
Check out Laila as 'Nicole" on the Starz Network. Also, set your calendars for Secret Headquarters and it's August 2022 theater release date.
Get to know Laila on Instagram and TikTok: @lailadpruitt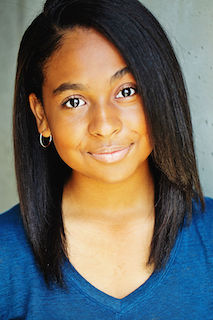 All photos and images are courtesy of Jamila Lisbon