We got a chance to speak with the young actress and rising fashion star, Storm Reid about her latest role in Suicide Squad 2, working with Idris Elba, and her next exciting role as a student.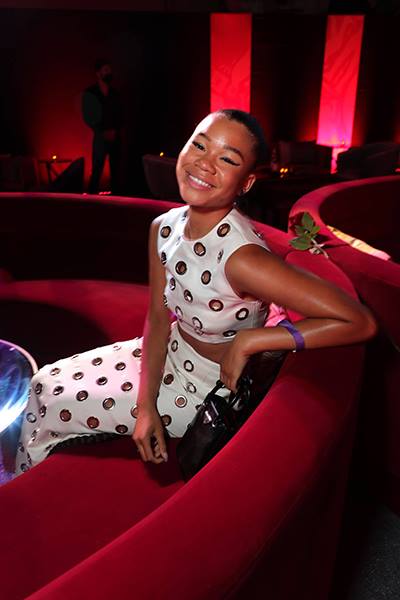 You have joined the second installment of DC's The Suicide Squad, tell us a little about your character…
I play Tyla…she ends up getting into some trouble and her father (played by Idris Elba), unfortunately, is the only person that she can go to, to get her out of this mess. He has to go on this journey to save her, himself, and the world and if you've seen the movie, you've seen how that turns out. It was a dream playing Tyla and I'm super excited that everybody's responding to the movie so well.
How was it working with Idris? Did you get to work with the rest of the cast as well?
No, I didn't, but working with Mr. Idris was incredible. You don't get to say every day that you basically, had a screaming match with someone like that, but it was so much fun. And working with him and James Gunn was a dream because they made me feel so comfortable on set and we really went toe to toe, but I think it came together so beautifully. To be able to work with people that are wildly successful and known globally, but they still love what they're doing and have passion for what they're doing and really take time to nurture and pour into other people that are coming onto their set is special and incredible.
Aw, that's wonderful. Did you film this during the pandemic?
No, actually it was right before the pandemic. I think it was 2019, right before everything got crazy…thankfully. I was able to film in Atlanta where I'm from and that was an anomaly because I don't really get to film there, so I was excited to be able to be home and then I was working a little bit, and then, of course, everything shut down, so I'm glad they were able to get the movie done before everything went awry. 
How did you prepare for this role? Was it different from your previous roles? I also loved you in Don't Let Go and your role here sounds like it has a similar father-daughter dynamic.
I think the preparation for each film or television show that I'm a part of is different. Just because I'm playing different characters and I really try to be intentional with stepping into my characters' shoes and becoming them, but not neglecting how Storm would feel in those situations. I think that's what I did with Tyla, and some of our experiences were parallel and some of them weren't.
What are your plans for the rest of the summer? Are there any exciting upcoming projects or events?
This summer has been an amazing one…I turned 18, I've still been able to work. We are currently filming Euphoria season 2, so I'll be occupied with that and some production company stuff that is brewing that I can't really say much about, but people will learn about that soon. And then I am going to USC part-time so I will be exploring being a college student while working. Even though I think that this summer is, unfortunately coming to an end, I am going to be very busy, so I'm excited about that.
Suicide Squad 2 is in theaters and on HBO Max now.
Photo Credit: Warner Brothers
Follow Storm on all social media platforms @stormreid.