The hosts of Beauty Needs Me Podcasts were nominated just last month for 'Best Beauty & Fashion Podcast' at the 2021 iHeart Radio Podcast Awards. With their achievements on their inspiring podcast that include all things beauty, wellness, culture, and more – it's clear these ladies' journey to success has just begun. We wanted to sit down with the two "lazy beauty girls" to discuss the inspiration to create their podcast, why they consider themselves lazy when it comes to beauty, and much more!
How did you two feel when you found out you guys were nominated for Best Beauty & Fashion Podcast at the iHeart Radio Podcast Awards?
Taleah: It was so unexpected and exciting! We were never notified by iHeart about the nomination so when someone mentioned it to us we were like "no we're not!" LOL. Then, one night I was on another podcast IG and they mentioned that they were nominated so I decided to check and immediately called Dunni when I found Beauty Needs Me on the list. It was unreal. It's still unreal. Beauty Needs Me is still a baby. We started in June so it's a real honor. 
Dunni: When someone first mentioned it to us, I thought they had the wrong podcast LOL…I was like "Nah, it can't be us". Weeks later when it was confirmed & I saw our names in black & white, I was overwhelmed with joy! It felt so good to have our hard work and vision recognized. It was especially  special knowing we are repping for Black women.
What inspired the creation of the podcast, Beauty Needs Me.
Taleah: Beauty Needs Me came out of necessity and a desire to feel included in a space that Black women dominate financially as consumers but are often left out of the conversation when it comes to skincare and entrepreneurship. I'm an avid podcast listener and love beauty podcast but didn't feel represented. In the beauty podcast space, most of the host are White women and a lot of their guest are White. I really felt like with the right person we could create something that felt accessible, engaging and informative; really talk about beauty in a different way and with people you don't often hear from. Dunni was the perfect co-host choice for that mission.
Dunni: The idea of being able to share stories about beauty in a way that isn't typically done – discussing the evolution of one's beauty is so intriguing to me. Consistently reinforcing that there's space for all of us in beauty regardless of where you are in your journey and that being "into beauty" doesn't look just one way is so important. Also, I couldn't pass up the opportunity of doing my part to shed light on African Beauty & show the world how there is so much more than what meets the eye in the African beauty industry.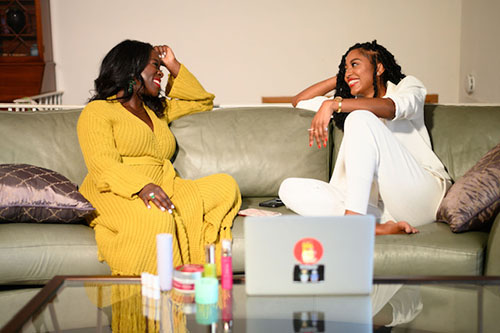 Why do you two consider yourselves to be "lazy beauty girls"?
Taleah: We want results without the exhaustive (and often confusing) routines. You can have a simplified skincare routine and still achieve your goals if you learn what your skin needs. Also, while I love to get my makeup done, I'll never be the girl that spends an hour doing a full-face beat with the works. I'm too lazy for that (laughs). I just got my eyebrows professionally done for the first person in September.
Dunni: Listen. I do the bare minimum, Ok? (laughs) I really cannot be bothered. When most people think of beauty or what it is to be a "beauty girl", they think spending a ton of time & energy on applying make-up and being "done up", being a total product junkie & all over the latest trends – that's just not who I am. I like getting up and going in the most care-free way, so I'm all about playing up anything that lets me do that whether it's having ombre eyebrows so I don't have to fill mine in all the time, having individual lashes so I still have a little "pop" on my casual days or keeping my hair in braids so I don't have to think about it. For me, it's really about not having to put in too much effort daily to look good.
What are you guys working on and what can we expect to see from you two in the future?
Taleah: We've been on hiatus since last Fall but we have new episodes coming out starting February 4th. Beauty Needs Me is really leaning into focusing on storytelling and discussing beauty from a global perspective. Western beauty and K-beauty are just a couple of pillars of the beauty landscape. There's an entire world out there that stretches beyond what we're used to hearing about. Beauty is a 360-experience, mind, body and soul. We want to spread that message. 
Dunni: You can also expect us to continue sharing intimately about where we are on our personal journeys because it's ever evolving and really digging into the inner work we're doing. Beauty is so much more than the physical – we're excited to continue discussing it in a more holistic way.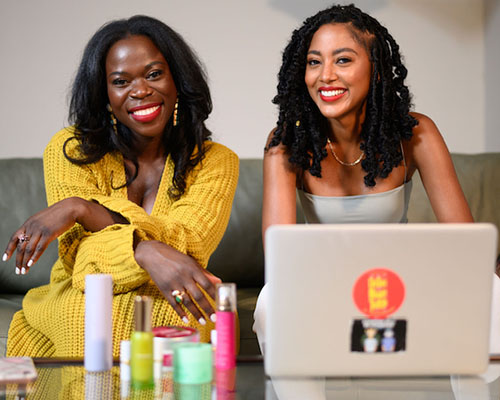 Tune into Beauty Needs Me on Apple Music & Spotify today.
All images by Brandon Appleton