Tamika Scott just released her newest single and visual called "Tonight," here to uplift the masses and remind them to celebrate themselves. A collaboration with one of the Hip-Hop greats, Method Man, "Tonight" empowers the listener to love on themselves, without worrying about any of the negativity that life may bring.
The song interpolates Nas' viral smash "One Mic," which was released back in 2022. In fact, Scott reveals she's had this record stashed in the vault for quite some time, thanks to her mixtape getting shelved.
Serving as a co-founding member of legendary R&B group XSCAPE, Scott is fresh off the heels of her reality TV show titled SWV & Xscape: Queens of R&B on Bravo. But while she may be a superstar in the limelight, Scott emphasizes that she's a normal person just like the rest of us. On top of being a child of God, she's a mother and wife to her beautiful family.
Tamika also recently launched her own seasoning line called Tamika Scott's Southern Fuse, as well as her cookbook titled COOKING WITH TAMIKA SCOTT.
Sheen spoke with Tamika Scott via Zoom to discuss "Tonight," her businesses, love for cooking, her new movie, starting her Youtube channel, the status with her family, and more!
I definitely want to talk about "Tonight," how'd that come to be? It's such a vibe.
Yes, girl! I wrote "Tonight" a few years back. I was putting it on a mixtape, but the mixtape never came out. So, I had to shelve it. But after Queens of R&B on Bravo came out, I was a little disappointed in the show because they showed more drama than the things that I've created. I created my own spice line, Tamika Scott's Southern Fuse. I have a cookbook, so I was hey'd show at least something. They showed Tiny cooking out of the cookbook, they never mentioned it. She cooked, but they took it out. She used my seasonings, they took it out. She made a drink out of my book. They show her making it, but her talking about the recipe- they took it out. They were more interested in the drama than me being successful in doing something else. 
So the song "Tonight," when you hear it: "can't no drama come our way, tonight I'm gonna celebrate." [sings] You know what, this is my story. I need to celebrate me. Even though sometimes people won't celebrate you, you got to celebrate yourself. That song is about not worrying about no haters, no bills, no kids, no bad relationships. I'm not worried about nothing I'm gon' take out this time and I'ma go out. Whatever that fun is, I'ma go do that tonight and celebrate. It was the right moment, I gotta do this.
Whose idea was it to interpolate Nas' "One Mic"? 
I'm a big fan of Nas and I've always loved that song. I wanted to do an R&B twist to it, so that was my idea to go in and change it. I gotta do this. I know the men love it, but I wanted the women to hear what I heard. I wanted to keep the authenticity of the song from New York, because the song is a New York based song. I reached out to Method Man, he heard it. He's like, "yo sis! You killing it. You killing that bridge." 
He did his verse and he laced it. Girl, did he?! He killed his verse. We shot the video in New York, because I had to keep it real. We shot it in Brooklyn and the Bronx, we went to New Jersey and shot. So yes girl, it's all about "Tonight." 
How long have y'all been friends? How easy or difficult was it for him to say to get on the track?
It was easy though. He, my husband, and I met at Michael Bivins' wife's birthday party. 
I want to say about 9 years ago, he was there and I was there. We started talking. I met his wife, beautiful Tamika. You know what's crazy? His wife's name is Tamika. You know what's more bizarre? His wife is named Tamika, Tiny in my group's name is Tameka. Method's name is Clifford, like T.I.'s. Him and T.I. got the same name, his wife and Tiny got the same name, and his wife and Tiny are born the same day, the same year.
Was there any part of the video that was inspired by Method's song with Mary J Blige?
No, it wasn't. Even though I love that song. I wasn't thinking about that video when I was thinking about Method, because we cool. When I think of Mary's vibe, in my mind both of us ghetto fabulous. When I see it now, people probably thought I copied off her but I didn't. I'm my own self. Picture Perfect produced the video, I didn't have anything to do with it. They told me where to be, what time to be there, and it was what it was. Everything in the video was from Picture Perfect ideas vision. 
Best memory from the video shoot?
I want to say the rooftop. We were on a rooftop in New Jersey, the Statue of Liberty was behind us. They had a drone, but it was so windy outside, it kept almost crashing. We couldn't even get certain footage that we wanted, being that the Statue of Liberty was directly behind us. But on that rooftop, it was still beautiful. It was cold! It was freezing outside. On the video, you can't tell. 
But it was freezing, oh my god. I was trying to be all cute in that little see-through leopard, I was freezing on the inside. [laughs]
New York is freezing, I could never move there.
Yes, but it's so beautiful. It was beautiful. Being on the rooftop was one of my favorite scenes to shoot with him. 
I know Kandi's birthday recently passed. What do you get someone who has everything?
Girl, love. You tell them happy birthday, give them a gift card. [laughs] Amazon gift card, Walmart gift card, Publix gift card. Baby we all shop, we all gotta shop somewhere. Her husband took them to Turks and Caicos and invited all of us, but I couldn't go because I have an engagement tomorrow and Sunday. I've been working all day today.
You have an Expo appearance coming up right?
Yes, I'm one of the keynote speakers at the Ultimate Women Expo Saturday at 2:30pm. I'll be there selling my seasonings and my cookbook. I didn't get a chance to do it last year because we were on tour, but I did it the year before that and it was amazing. Being able to sit and talk to the fans, they are  taking pictures. They're asking me, "how did you cook this?" or "how did you make this?" It was a good experience. I love being able to be face-to-face. I love to be close with my fans, so I'm loving it. 
What is your signature dish? What is your go-to?
Girl, everything. Anything that's comfort food. I do it all, from soul food to seafood to vegetarian. You name it, I do it. Because I have a lot of kids and all my kids eat different things, so I have to cater to everybody. Anything they want, they get. I'm a great cook. 
Do you cook 3 times a day, 3 meals a day?
Girl, I be throwing down. I won't say 3 meals a day, but they gon' get their dinner. Before I go to rehearsal, I make sure my family's fed. I have to get up extra early, I go in the kitchen. I may do 2 meats, 3 vegetables, and cornbread. I'll make rolls. I make sure before I leave out this house, that they have a meal.
I love that you're a female entrepreneur. What was the reality of launching your own seasoning line?
Girl, because I got tired. I named it Southern Fuse because I got tired of using 4 or 5 different seasonings for that one. I have a seafood fuse that all you need is one fuse, because it has all the best ingredients in it. I got seafood., beef, and poultry. I have barbecue, I have cajun, I have vegetable seasoning. I have a sweetener. There are 8 seasonings. Being able to use one seasoning 
is what motivated me to do it. I cook and I love different flavors. I always say I'm bringing the taste of the South in your mouth. I want to give people a little taste of the South. 
I saw you're acting in the movie called Christmas Ringer?
Yes girl, I'm in a movie! It's coming out at the end of the year, because it's a Christmas movie. I'm starring in a Christmas movie with some heavy hitters, I'm so excited about that.
How did the opportunity come about?
It's crazy because I was driving and I got a phone call from the producer. Keith Neal from Swirl Films, he's like, "What're you doing?" I'm driving down to see my grandbabies, because my daughter's two hours from me. He said, "I need you." I said, you need me for what? He's like, "a movie." Kierra Sheard was supposed to act. She was supposed to star in that role, but she got sick and couldn't make it. Then they gave the role to another gospel singer, but on the day of the shoot, she fell ill. 
So he called me like "I need you." Oh my God! I said when? He said "today." I had to turn around, drive all the way home and get clothes. Because the other girl's a little bit larger than I am. He said "if you could get clothes for 3 scenes, then tomorrow you'll have clothes on the set." I went home, I pulled a whole bunch of clothes based on the character. I learned it on site. They gave me my script, I learned it. Shot my scene that day, came home, studied it, and was back there the next morning.
Any beauty go-to's?
Girl, some people might think I'm crazy. I put Noxzema and oil on my face at night. My skin might be medicated from all the menthol, but it is clearing my skin up. I love it, and baking soda for my teeth. I have a natural white smile, it's natural. 
Anything else you're excited about?
I started a YouTube channel, and my numbers are incredible. I got 700K views on one video—never did YouTube before. I talk about the Queens of R&B, or I might  do a backstage video. I do behind-the-scenes footage now when we do shows with XSCAPE, and I'm getting good reviews. People get a chance to go in the dressing room with us, they get to see us when we're  getting dressed. It's working. People are like "oh my gosh, I love your personality. I never knew you were this fun, you were this funny." It's allowing  people to get to know me. 
I'm enjoying it. It's so hard trying to push out content and have it edited, so I will be doing it myself until I get an editor. So I film it, I edit it. I have my daughter Oshun, she runs my page. She uploads it. She reads all the comments and she deletes comments. Really, really evil comments, she'll delete. But some things, she'll leave them there. Girl, you must have not read the comments today because they're saying some wild stuff. She's like "mama, stop reading the comments! Just keep bringing it."
The first time I did it, she was telling me: "I want to tell you how much your check was." Oh, you get paid for Youtube? She's like "yeah." My daughter's been doing it for a long time. She kept saying: "the amount of time I'm putting in Instagram, if I put that into YouTube I'll get paid." My first check was $30K. She's like "well I guess you made your money back." [laughs] Look at God. $30K and some change, but it's still going up. They said they deposited $30K, what's the coincidence? 
Is everything cool with the fam and everything?
We're still not talking. It's still crazy. Even when the cameras went off, other things started happening. I hate to say, it's getting worse. It's not getting better. Not only have I been attacked, but my group members individually we've been attacked. Everybody's feeling like "what's going on? What is she doing?" But we gon' keep it moving, we're still out here. We're still doing shows with the 3 of us. We're keeping it moving. It's sad because we all built this together. But if we don't use our own voice and stop listening to other people, there will always be a division. It's sad because we're family. In the back of your mind, it's gonna get better. It's gonna get better. You keep believing and hoping to get better, but if that person doesn't want it to be better, what can you do?
Anything else you want to let the people know?
"Tonight" is available on all digital platforms. Make sure you cop that, go watch the video on The Real Tamika Scott. Follow me @therealtamikascott, and keep kicking it with us. Thank you to my fans for even accepting me as a solo artist, even though I'm not going solo because I'm still with my group. This is just something outside of the group that I'm venturing into. I'm loving the love, even though I was afraid to step out because I didn't know what people would think, or what people would say. But the love that I'm getting is needed, and it's keeping me strong to keep going on.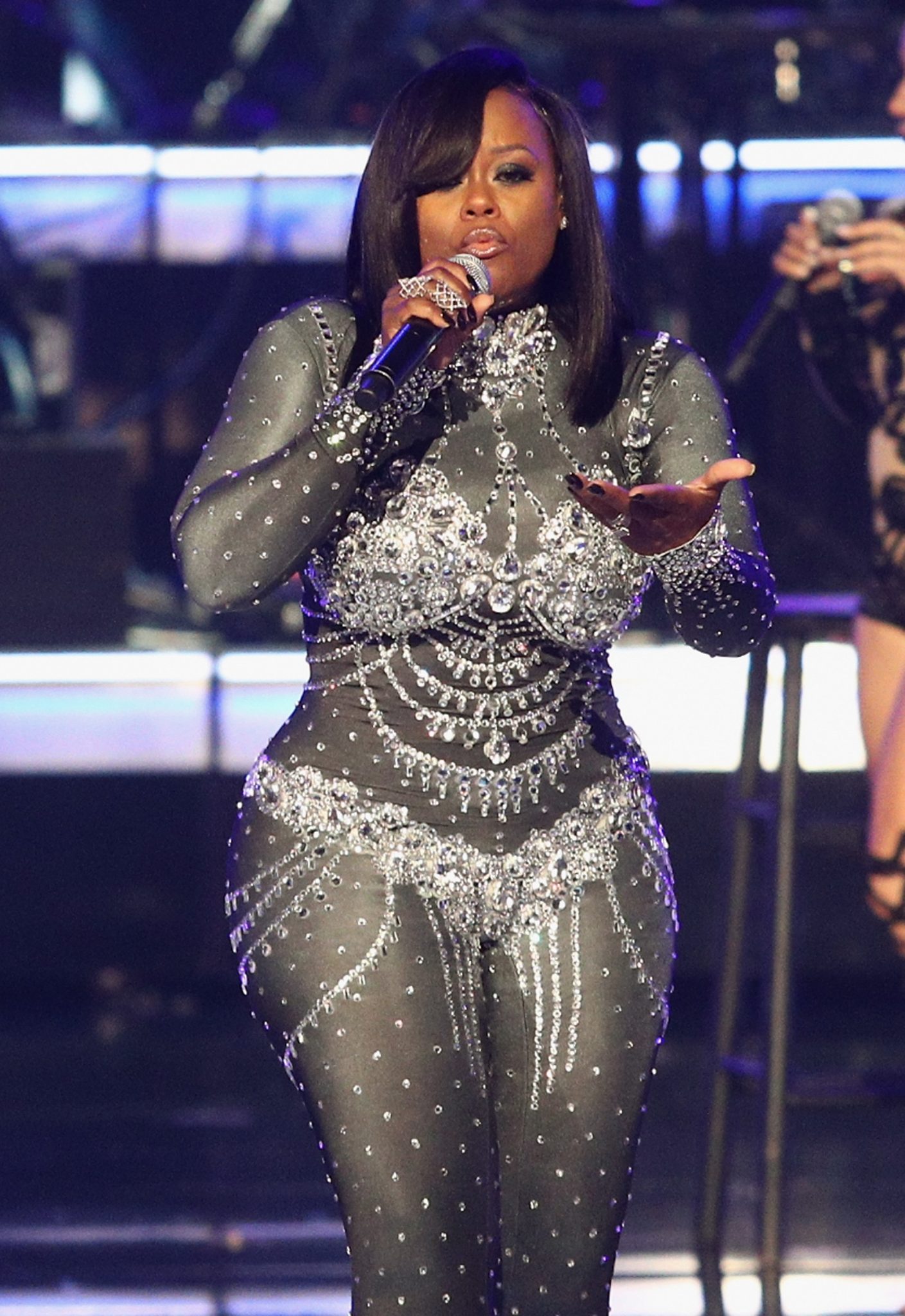 Photo Credits: Paras Griffin Getty Images & Kontrol Magazine