Atlanta native Dai Time has quite an impressive resume – especially for being only 14 years old! The teen fashion icon and social media influencer has done everything from red carpet celebrity interviews to being the first celebrity teen correspondent for Sheen Magazine – and she is just getting started!
The motivated teen who aspires to be a celebrity journalist has already done so much in her career. Not only is she a seasoned celebrity interviewer with her own magazine, Dai Time Magazine, but she has also been quite an inspiration and role model as a spokesperson for the Food and Drug Administration's anti-smoking campaign for teens.
Dai's role as the first celebrity teen correspondent for Sheen Magazine was so captivating that it led Sheen to create a teen segment for their show Sheen Talk Live.
Her fun personality and knowledge of teen fashion is very entertaining in addition to her skilled interviews with an impressive list of celebrities that include Malia Baker, Gabrielle Green, Gianna Harris, Izabela Rose, Jaylin Fletcher, King Harris, Talia Jackson, Jordyn Raya James, Michael Epps, and Lebron James' sons – Bronny and Bryce.
In a fun turn of events, we interviewed Dai Time to see what the Sheen Magazine correspondent and teen fashion influencer had to say about her life and what's keeping her busy these days.
Can you tell us a little bit about yourself?
Hi! I go by the name Dai Time which pronounced day time. Haha! My goal is to be the light in any space. I am a junior media correspondent and I enjoy talking. Being a media correspondent is super fun and exciting because I get to ask celebrities interesting fun questions that adults typically would not.
Congratulations on being the first celebrity teen correspondent for Sheen Talk live. What is your goal for continued growth?
I hope to create a safe space for teens because we need it the most. I want to feature amazing youth in the entertainment industry because I can relate to my generation.
What does a day in the life of Dai Time look like?
During quarantine, I typically sleep in late which drives my mom crazy, but I get super busy after that. I may research news in entertainment or more creative dishes to cook or new designs for my nails. I may definitely throw-in time with friends and family via phone and work on new skills.
Who were your favorite interviews?  Is there anyone you would like to interview?
I've had so many phenomenal interviews so far and every single one was amazing. My dream list would definitely include Marsai Martin, Ellen, Beyoncé and Rihanna.
Most adults dream to be in your position. At what moment did you know that you were going to be such a success?
This is definitely a dream come true and I'm grateful for every opportunity. Joining the Sheen Magazine team as the first teen correspondent ever gave me the support to feel successful. I can't wait to see what's next for us!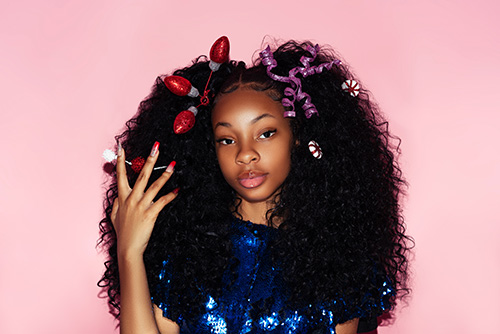 What was the turning point in your career?
The turning point in my career was being booked by BET to host a style review. I was screaming so hard when I received the news. I had an entire team which was phenomenal – it's normally my mom and me. (Laughs).
What do you like to do in your spare time? Do you have any hobbies?
My hobbies are skating, doing my nails, and attempting to train my dog!
What is one piece of advice you would give someone who wants to follow in your footsteps?
My advice would be stay strong pray a lot and don't ever lose sight of your goal.
What's next? Any upcoming projects?
I'm hoping to do more in-person interviews and maybe a TV show!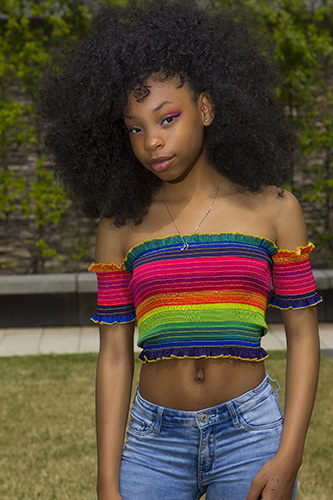 Where can your fans follow you?
You can find me everywhere – especially on Instagram… and be sure to check out Dai Time Magazine, too!
We look for great things from our Sheen Magazine Celebrity Teen Correspondent, Dai Time. Tune in for inspiring interviews, the latest fashion advice, and a safe place for friends to gather from this rising teen role model
All images by Julian Peeples