Last year, Netflix brought together a powerful all-girls group with their hit series, The Baby-Sitters Club that includes actress, Malia Baker starring as Mary-Anne! The young sensation has quickly proved that she is a force to be reckoned with and she does not plan on slowing down anytime soon. Ahead of a few exciting projects in the works for Baker, we wanted to catch up with her to discuss her role in the popular show, quarantine life as a creative, and much more
Tell us about your role in Netflix's The Baby-Sitters Club. Do you feel like you relate to your character on the show?
Mary Anne and I have a lot of similar qualities. I used to be a shy person, but just like Mary Anne, I stepped into my power and found myself. We're both funny, kind, nurturing, smart and bosses in our individual ways!
What scenes feel most relatable to your experience as a maturing teen?
I feel like the scene where Mary Anne stands up for Bailey, the transgender girl she babysat, is the one I can relate to the most. I think we have all had experiences where we needed to stand up and use our voice and it felt hard, but necessary. Mary Anne shows how important it is for us to do so, even if it is challenging. I think that is something we can all really relate to, as well as look up to. In particular, I think that seeing a young per utilizing her voice to stand up to adults in a respectful, but powerful, way is remarkable because it's very real experience.
How was your overall experience working on Nickelodeon's "Are You Afraid of the Dark?"
I absolutely loved it. I made some really awesome friendships, got to work with an amazing crew, and had so many new experiences. I have never worked on something even remotely scary, so to do this was a whole new world. Now I cannot wait for more opportunities like this!
How did you get interested in acting? Do you remember the pivotal moment that influenced your career decision?
I remember writing my dad an eight-page letter about what I wanted to do and how I was going to do it. He works in film as well so hearing all of his stories from set, and how much he enjoyed it, was really cool. He responded with an eight-page letter back about how much he supports me and cannot wait to have us share this love together. After that I just went for it, starting with several classes and auditions!
How has quarantine life been for you as a creative? What are you doing to stay positive during shelter in place?
Quarantine life has been something to get used to! As a creative, I've tried to continue with my art, which means playing music, dancing and keeping my acting skills intact! I have tried to spend my time outside as much as possible, as well as work on my positive coping strategies to stay positive and mentally healthy. As we all know, so much has happened this year and it's sparked a call for real change, so I have also been spending my time using my voice and taking action as much as I can.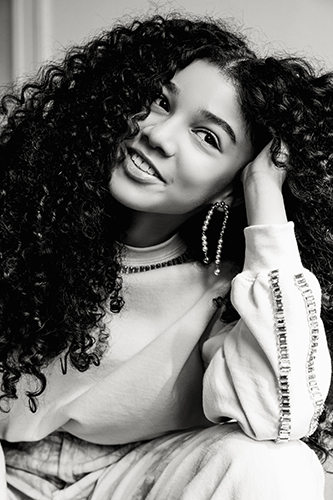 What are you currently working on and what can we expect to see from you in 2021?
I am currently working on season 2 of Are You Afraid Of The Dark? and I am excited to get back to filming The Baby-Sitters Club too! I'm also finishing grade nine and have a few projects that are in the works which will hopefully come to be and then I can share!
Rapid fire questions:
Ice cream or brownies? Ice cream, definitely
Harry Styles or Shawn Mendes? Have serious respect for both, but Harry Styles
Dogs or cats? AAH hard questions, I have both! I think cats
Beaches or Mountains? Beaches!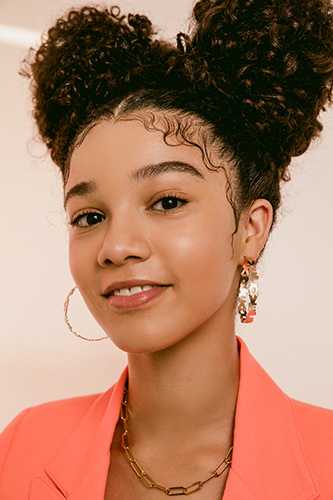 Nickelodeon's Are You Afraid of The Dark airs Friday, February 12th at 8:00pm EST/7C
For more on Malia Baker, follow her on Facebook, Instagram, & Twitter.
All images by Britney Gill