Black hair tells a story that dates back as early as the 15th Century. Hair played an integral role in African civilizations that often times signified social status, tribe, fertility, and marital status. Over the past 100 years' black hair has changed drastically, from up-do's in the 40's, afro's in the 70's, braids in the 90's, and a variety of styles like straight weaves in the 00's. We've seen the evolution of black hair and its techniques advance into some of the most sought after styles in the fashion and media industries to date.
On a quest to help empower women of color through the celebration of black hair, The Black Hair Experience, an interactive pop-up installation will be opening its doors from November 20th – December 20th in Atlanta, GA. Founders Alisha Brooks and Elizabeth Austin-Davis, fused the aesthetic of an art exhibit with the engagement of photo-worthy installations, all inspired by the beauty, stories, and the culture surrounding black hair. I got a chance to speak with the founders about their mission and vision for the BHE.
"Our goal is to shed light and empower self love of black women and their hair. We want to be able share our journey and connect to each other thru nostalgic experiences and moments. We've curated over a dozen different installations that are relatable moments within the black hair journey. Rather its taking a trip to the beauty supply store, sitting in a salon all day on Easter, childhood memories of wearing bows and barrettes, or even being in the kitchen with mom or grandma getting your hair hot combed, its about celebrating every aspect of black hair. The experience isn't about one particular style of hair. Rather your natural, permed, loc'd, bald, or rock a fro there is something in our experience you can relate too."
Alisha and Elizabeth have been friends for over 10 years. They initially met as interns working in corporate America and created a bond after they realized they were sorority sisters of Alpha Kappa Alpha Sorority Inc., which lead to them going on to become roommates. The idea came about when the two were at a conference and Austin-Davis [Liz] who is a world-renowned photographer shared she wanted to work on a passion project that was centered around black women and hair. As a visual and graphic designer, Brooks thought it be good idea to create an interactive experience that celebrated black women and their hair. They fused the two ideas together and The Black Hair Experience was born.
USA Today reported on a market research done by #RepresentationMatters, that showed 2 out 3 Black Americans say they don't see themselves represented in print, movies, or television. Austin-Davis stated in doing this experience it was important that it was done by black women and for black women. The event is geared towards taking photos and sharing them online in an effort for other black women and girls to see themselves represented positively in media.
"There's not one way to be black and its important to continue to expand our idea of what being black is and what black hair is. The only way we are going to be able to penetrate the media market is if we continue to pour into our community and be able to make our own so that we can see ourselves more often in the places that we create, because other people aren't going to do it for us."
With over 3,000 black hair care brands currently circulating revenue within the market, Austin-Davis stated as a consumer she is excited to see the evolution of products tailored to black women in the beauty aisles. "That representation is impactful. The biggest thing for me present day is making sure that we aren't just putting out products just to market to black women in order to capture our dollar." She noted that those products actually doing what they are supposed to do for black hair, coupled with the quality factor is what she's mostly concerned about.
With black hair stigmas being at the forefront of conversation these days, Brooks and Austin-Davis have made it their mission to combat any negative representation through their pop-up installation. Both women made the transition from having perms at one point of their lives to now rocking natural hair styles. Austin-Davis expressed the changes of her hair overall have been a journey that ultimately lead to her being able to look in the mirror and say how much she loves the way her hair is. She stated that even within the black community there's a long way to go when it comes texture discrimination. There goal is for women to know they are beautiful no matter how they chose to wear their hair.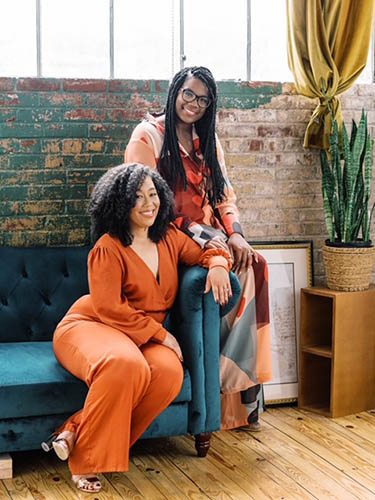 "That journey is different for everyone. The biggest thing we want for women of color to understand is that, no matter what way you wear your hair, as long as can you look in the mirror and say that you love yourself, do what you want with your hair. It's the journey of black women coming together rather they are permed or natural and being able to say sis I love myself the way that I am and I'm not changing myself for the standards that have been put in place by white America or men."
African-Americans are reported to spend roughly $1.2 trillion each year, $2.5 billion of those dollars are spent in the Black Hair Care Industry due to black consumers making the switch to companies catering directly to them. "The only way we are going to be able to change the media is when we have the capitol to do so." Austin-Davis stated that her and Brooks try to pour back into as many black businesses as they can so that they can keep as much of those dollars in the eco system and circulating throughout the black community.
At the BHE, attendees will experience a hand-crafted swing with handles made of large braids and twists, a product showcase with over 1,000 bottles of black hair care essentials fostered from the ceiling, an ode to women of color illustrating the beauty of hair in the form of collage, a back wall capturing the essence of black childhood experiences, and a list of positive affirmations.
"We ultimately want to spread awareness and normalize black hair. It shouldn't be an issue in the classroom or an issue at your job. We hope we can foster and spread self love and awareness to moments that are unique to black hair and our experiences with black hair. We felt like this year was very heavy for our community and our people and we really wanted to be able to show black women in our community they have something positive to look back on."
The BHE has a COVID safety plan in order to protect the safety of employees and guests. In accordance with the CDC guidelines the exhibit will have frequent cleaning between time slots, automatic hand sanitizing stations, capacity control of no more then 20 ticket holders per time slot, mandatory temperature checks upon entry, air decontamination system, and established social distancing with a strict mask wearing policy.
Here's a sneak peak into The Black Hair Experience below:
Join The Black Hair Experience at 1540 Avenue Place, Atlanta GA 30329 STE C-180 from November 20th to December 20th. Tickets to the exhibit are $28.
All images by The PR Alliance LLC