A beautiful woman can take your breath away and will give you pause the moment you see her photograph, but rarely do we find "that girl" who breathes life into every photo she appears.  Brittany S. Mason has that unique face of perfectly arched eyebrows, deep brown almond shaped eyes, and a smile that radiates happiness guaranteeing any beauty campaign she is a part of will be unforgettable.
Looking at the various photos of Brittany the pattern is similar, you are overwhelmed by her elegance and exotic looks, and the backdrop becomes secondary.  With time on her side, Brittany has already appeared in various campaigns for Dose of Colors eyeshadow, Sephora Beauty Services,  Hair La Vie's Hair Dazzle, and with Toni Braxton promoting Nude Sugar.  The moment you see her, you realize she is just like that beautiful monarch butterfly floating in the air.  Overwhelmed and mesmerized by the unique colors and patterns of its wings, soon thereafter you realize the landscape behind it, and Brittany is just as delicate and bold in her presence that the camera loves.   It is that once in a generation look that Brittany S. Mason embodies translating into a winning combination of hope, fantasy, and a touch of mystery.
Born and raised in Lancaster, California with parents both working in the health care sector, Brittany is a fearless and determined young lady eager to make her mark in the world of modelling. Having signed with O Models Agency,  her daytimer is filling up with appearances is the world of couture as brand ambassador for Zay Lux Collection and, wearing the alluring designs of Hakoda David.  She is also the face of Scott Barnes Cosmetics SNatural N2 Collection.  Zenni Optical knew she had "that look" so much they put her on their Billboard and, Toosii2x called on her for his music video "Love Cycle".  I asked Brittany what her dream modelling job would be, and she said with a sparkle in her eye "Victoria Secret! Their bras fit me amazingly and I have always admired the brand in how their campaigns capture a woman's beauty to a level no other lingerie brand has been able to.  I dream of being one of those alluring models wearing the coveted Angel wings that men and women alike know is the ultimate fashion runway fantasy."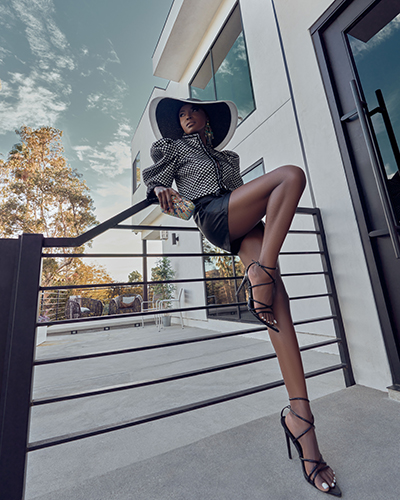 Victoria Secret has always set itself apart in its celebration of the female form.  Using quality fabrics and designs, their creations are modelled by the most beautiful women in the world conveying a message of romance and sensuality.  Brittany S. Mason's fans know her stunningly exotic looks are a natural fit for the brand so let the campaign begin to get this beauty her VS Angel Wings soon!
Brittany has been photographed by some of the greatest talents out there, Malik Daniels (@mdanielsphoto), Joshua James (@fuzzyanalog), and Tony Bee (@tonybeephoto).  With her chameleon like ability to transform effortlessly into any dynamic, Brittany can sell virtually any fashion style.  Not since Grace Jones has a model empowered women to be bold and own the room wearing cutting edge designs of "futuristic" cuts.  Brittany is also reminiscent of the unforgettable statuesque beauty of Iman, where she naturally adds that right element of chic and elegance to even the simplest of fashion styles.
There is nothing this beautiful style icon cannot elevate to a level of envy, grace, and intrigue. She knows who she is and how to style and manipulate her body to enhance any product she is promoting.  Looking at her photos she also teaches us alternatives to accessorizing our outfits that can dramatically change our look with the slightest tweak here and there.   On her, a simple silk scarf becomes a multifaceted must have accessory that inspires us to be daring with our wardrobe pieces.  We all want to stand out in a crowd, and Brittany does give that boost we need to also be daring and bold.
Covergirl and Maybelline cosmetics are brands she is currently pursuing, and for generations women all over the world have grown up trusting their products to enhance what God gave them.  Maybelline's famous pink and green mascara always brings out the sparkle in our eyes and Brittany has those eyes that speak without her ever having to say a word.  Covergirl's sought after foundations give us that velvety smooth look for the perfect application of cosmetics taking our beauty to the next level.
Brittany, like a chameleon can take any cosmetic color, any cosmetic tool and transport a campaign back to the disco scene of Studio 54, or to the warm sunset soaked beaches in the tropics.  It is clearly evident there is a billboard and many commercials anticipating her arrival to enhance and elevate many more brands and products.
There will only be one Naomi Campbell, one Paulina Porizkova, one Stephanie Seymore.  Now there is Brittany S. Mason.  Just like her predecessors, every photo you see of Brittany, and at every runway she walks, you cannot take your eyes off her.  She is that beautiful dove, where at her young age is already leaving an indelible mark as a model.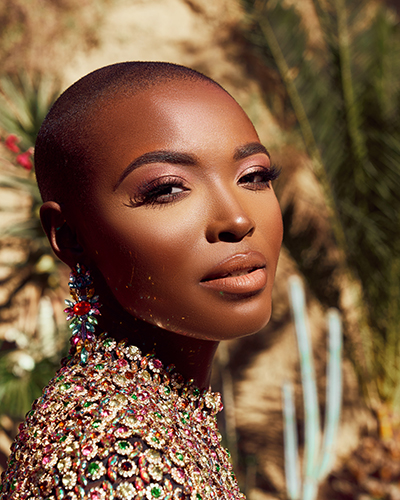 You can follow Brittany S. Mason on Facebook, Instagram, & Twitter.
This feature was submitted by Sherry Nelson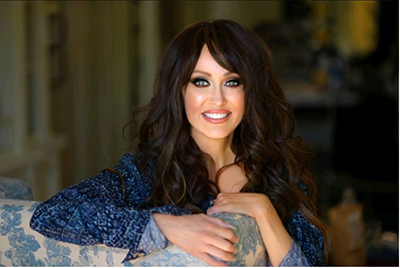 Sherry Nelson is a Model, Actress, Producer, and Contributing Writer for XS10 Magazine, Reel Lumiere, The Spotted Cat, and Americana Rhythm Magazine. She holds a Master's Degree in Corporate Finance and hails from the beautiful forest lands of British Columbia, Canada.  Sherry can be seen as co-host on 'Movie Reviews and More', Cedric the Entertainer's 'Fan Room Live', and 'Debbie Perkins' Red Carpet Radio Show'.  Sherry has a keen eye for spotting Icons in the Making and through her selection of various profiles, she will take you beyond the appearance you see on the surface, but on a multidimensional journey exposing the integrity, drive, and will to succeed of the personality whose story she writes will inspire future generations to come.
To keep in touch with Sherry Nelson on Facebook, Instagram, Twitter, & IMDB.
PHOTO CREDITS:
Photographer: Michael Montiel
Makeup artist : Evey Castaneda
Designer: hakoda David
Showroom: kali Mysteek