The ultimate key to Ferow's success is heart and consistency. She is an East African artist that is never shy about her heritage and passion for music because she always knows it's organic. Read more about Ferow in this artist spotlight.
Share who you are to the readers.  
My name is Ferow, I am an East African artist. I grew up in Dallas, TX but currently live in Atlanta. Music is my passion!  I knew I needed to take it seriously once I finished school. So, I moved to Atlanta in 2014 to start my career because there were so many successful black artists that were winning.   
Tell us more about your new visual/single "For You," featuring Dremo.
"For You", is an amazing record because it was an experience to do Afro Music. I traveled to Africa in 2018 with my dad and liked the vibe. Since I am already African, I wanted to change up my genre. So, I had the opportunity to tap into Davido's Camp (DMV), HKN- 30BG Family, which Dremo is signed too. We created and recorded a real organic song that is just in the moment type and is all about loving somebody. Since then we have became best of friends!
Tell us more about your latest single, "Love All".
Love All, means a lot to me because it's a special song that I put my uncle on. My uncle is an East African singer and a legend. For me to work with him was just personally moving!  Also, the meaning "Love All" was meant for everyone to unite, the younger and older crowds to mix, and our neighbors to love each other. I even put Nipsey on the cover because I wanted everybody to understand "unity".  If Nipsey's neighbor would have loved him, he would have still been here! So, for me, it's important that if we work together you can achieve anything.
 Greatest moments about your friendships with the Manifest Queen, B Simone.
 We have so many moments, it's so hard to say!  We've been friends since we were 17/18 years old. We met in the studio; she was in a girl group and I was always an independent artist and writer. So, I came into her session writing for her group and ever since then we have been best of friends. I left Dallas in 2014 with my family and then my family decided to move after a year. I called her up asking to live in Atlanta with me and to be my roommate. She was like yes! The friendship I have with B, is like one of the only friends that is down for the cause! Be able to move and achieve goals.  
Why did you choose to sign with Indie/Empire in Atlanta?
The NR was very tangible, and we've been working together for years. So, we thought it would be a good decision to just try working together on a song. They did an amazing job! I love the company!
What advice would you share with any entertainer, artist or model navigating the industry?
 Stay consistent with your craft and dropping things out, truly being on it. When you meet successful people and be around them, they all tell you the same thing. Remain consistent! So, if you are not going to be consistent with your craft and watering it to make it grow then it's not going to work. Also, never stop and be willing to work with others and accept their ideas. Sometimes you just have to say, okay!
How are you maintaining your beauty regimen and life during quarantine?
On a regular basis, I am big on being clean and having healthy hygiene. So, during this time, I love that people are trying to stay clean and aware!
Since I am so up on my hygiene, I try to take care of my face and skincare. I do the exfoliants, toners and make a mask at home maybe three times a week. I also grease my scalp everyday with castor oil and leave my hair braided. You know going back to the roots!
Some of the masks that I make are:
Honey and avocado with lemon
Avocado with lemon
Plain yogurt with turmeric and honey
Egg white and yogurt
So, my skincare regime includes, first exfoliating, second toning (rose water or witch hazel), then third masking.
What can we expect from you in the future?
Actually, you can expect my skincare line to come out this fall! I am teaming up with B. Simone Beauty. Also, my music, I have projects coming out soon one with B. Simone and my own project that is coming out this fall. This year has been really good for me! I am just really took the time to work on my craft and use the time to create. Come by July I will be dropping and being consistent.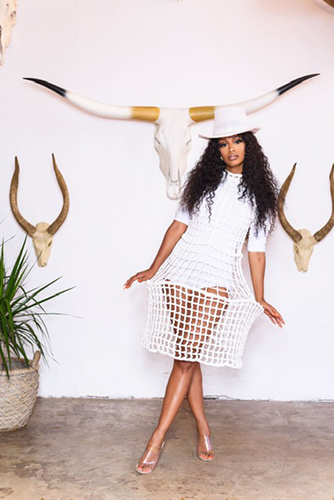 Stay connected with Ferow by following her on Facebook, Instagram, Twitter, & YouTube.
All images courtesy of Ferow