Family is a sacred unit that should be treasured.  Many family members grow in faith, health and even business.  Terry Sampson and Willie Styles are one family duo who have chosen to grow in business together.  Terry (The Uncle) and Willie (The Nephew) have created the Atlanta based, Envisage Affiliates LLC.  The family tree has roots in the entertainment industry so it was no surprise that the two wouldn't combine their talents.  Envisage Affiliates LLC specializes in media, video production, graphic design and much more.
Their brand stands strong to emphasize the visual portfolios of their clients through purpose and professionalism.  With over 700 productions to date, the team continues to strive for excellence in multimedia.  The brand has worked with the likes of the late Nipsey Hustle and Bizarre of D12.  Terry is even an U.S. Army veteran who brings the skill and precision from his military experience into the brand. "My military experience expanded my dedication, focus, and effort. As a recruiter, I created and maintained positive relationships without deviating from our military responsibilities. So for me, the transition from military to mogul was seamless," recalls Terry.
The duo is inspired each day due to their vision, determination and grit for a positive impact in the world of multimedia.  "The inspiration for our company is support! We thrive off of lucrative quality productions that are for our clients and ourselves," says Willie.  "We aren't in competition with anyone. We appreciate and value originality which allows us to differ by being fans, patrons and supporters of other brands," Willie continues.  Envisage Affiliates LLC is always eager to move forward in support of their business peers.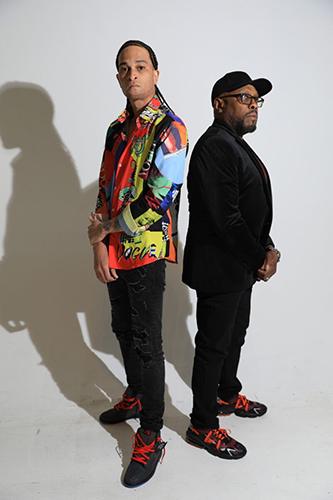 With many aspiring to be in the entertainment industry, Willie and Terry have valuable advice.  "Work smart not hard and give yourself a chance. Everyone will have their "good part" in God's movie and your good part is coming even with the ups and downs,"  Willie encourages.  "It's never too late," expresses Terry for those aspiring into entertainment.  Envisage Affiliates LLC is here to impact the culture for today, tomorrow and beyond.  Connect with their brand here.  Follow Willie Styles here and Terry Sampson here.
Writer, C. Scott, is a mompreneur, educational advocate and lifestyle blogger.  Follow her online as @curls_coils and @beautifulshadeslc.
All images by Jakeem Smith | Lifestyle Images ATL