Ladies, if you are looking to raise your relaxation status physically, emotionally, and spiritually – The Handsome Masseur is prepared to help melt that stress away.
Located in Greenville, SC, Patrick Arnold, best known as The Handsome Masseur, created Body Language Therapeutic Solutions, exclusively for women, as a place to escape and rejuvenate while getting lost in an intimate experience.
Intrigued? Here's what Patrick told us about his unique massage business.
Please tell us about yourself and your business.
My name is Patrick Arnold, and I am The Handsome Masseur.  I'm a full-time entrepreneur running both a massage and bodywork practice and a transport trucking company.  My practice is based out of Greenville, SC where I was born and raised. I started Body Language with the intent of giving women a pleasurable service and intimate experience to benefit their mind, body, and self-love without having to give of themselves.
How many years have you been in the health and wellness field?
I've been in the health and wellness industry for 5 years.  I am a World Champion of Massage amongst my international community of peers. Finishing 2nd overall in Western Freestyle Massage at the 2019 IMA (International Massage Association) Championship in Copenhagen, Denmark.
What is the ultimate goal of your business Body Language Therapeutic Solutions?
When I started my practice, I designed the technique to cultivate, harness, and introduce women to the energy of creation…sexual energy!  I want to eliminate the taboo and stigma surrounding sexual energy as a perversion by demonstrating its powerful healing benefits through the love language of touch.
Have you worked with any celebrity clientele such as actors, athletes, or musicians? If not, do you desire to?
Unfortunately, I have not been able to link up with anyone with celebrity status… Yet! I do desire to and I'm open to it. This technique is truly one of a kind, garnering a clientele base of women in all shapes, sizes, ages, ethnicities, and occupations…each in awe of their own unique experience. It's time for the extraordinary women to experience this extraordinary touch!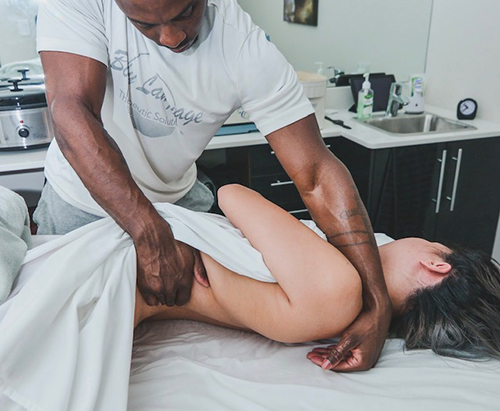 Are you traditionally trained or have your techniques been developed through creativity and intuition?
There is nothing traditional about my style of touch. While I am a licensed professional in both the states of South Carolina and California, my techniques are self-taught and self-developed based on how I know I would love to be touched. The combination of feather strokes, firm pressure in common trouble areas (the neck, shoulders and back), cradling, slight stretching and soft transitional touching; mixed with focused attention, adoration and pure unadulterated love for women creates an unparalleled experience like nothing else in our modern world. Every client, in every session feels uniquely special and like she's all mine.
What are some of tips you would give people who are struggling with pain and neck/back tension after work?
Develop a regime of self-stretching exercises and SOAK, SOAK, SOAK! Soaking in Epsom salts and essential oils in warm water for at least 15-20 minutes for 2-3 days a week will not only be therapeutic to your aching body but will also assist in soothing your mind.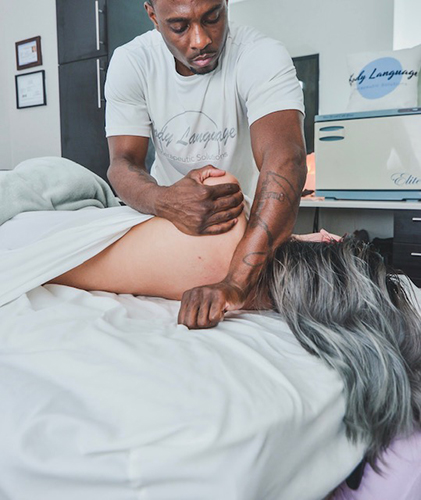 How do you encourage your clients to heal their body naturally?
Cardiovascular exercise, proper dieting, meditation, and adequate rest are my personal go to remedies that contribute positively to the process of human technology. Cardio allows for proper deep breathing and oxygen intake, the right foods fuel the cells and internal structures of the body, meditation brings peace and poise to the mind and the intelligence of the body goes to work on repairs while we are resting.
Do you feel people of color have differences when it comes to health and wellness?
From what I have observed, I think it's mostly based on the culture of the area you were raised in or may be living. I see a higher percentage of our people engaged and dedicated to health and wellness in places like Atlanta, L.A., Miami, Charlotte, and New York. Not so much though, in the smaller markets. But times are changing. I am starting to see more and more of our people, mainly middle-aged women, become aware of the importance of health and wellness. They are committing to trainers, enjoying the outdoors, and focusing more on their internal wellness as opposed to just focusing on their outer beauty.
The Handsome Masseur offers unique services for his 'ladies only' massage salon, Body Language Therapeutic Solutions. Enjoy a special, unique experience and enjoy an extraordinary touch from professional masseur Patrick Arnold, The Handsome Masseur,  that will leave you relaxed and rejuvenated.
All images courtesy of The Handsome Masseur