Leading by example is what "The King of Education," Marion Skinner, lives by. As the CEO of Texas Advancement Center, one of Texas' top vocational schools, Acumen Businessman and Serial Entrepreneur, Marion Skinner, is an advocate for education. With a powerful mandate to drive down the unemployment rate one student at a time, Marion has found his right to passage by helping to cultivate the next generations' leaders through the power of trade and education by way of the Texas Advancement Center.
In between his work at Texas Advancement Center, Marion still finds time to cultivate another avenue to give back. This Thursday, December 15th from 11AM-3PM, "The King of Education," will host a TOY and DIAPER DRIVE, at its Mesquite campus located at: 2836 I-30 Mesquite Texas, 75051 Suite 205. The free community event will be powered by Texas Advancement Center, and will provide free toys and diapers to pregnant mothers, parents, low income families, high school dropouts, and individuals with a criminal background ahead of the holidays. SHEEN caught up with Marion to discuss his impactful holiday community give back, why he decided to team up with the legendary Chilli of TLC, and how education is the cornerstone of wealth.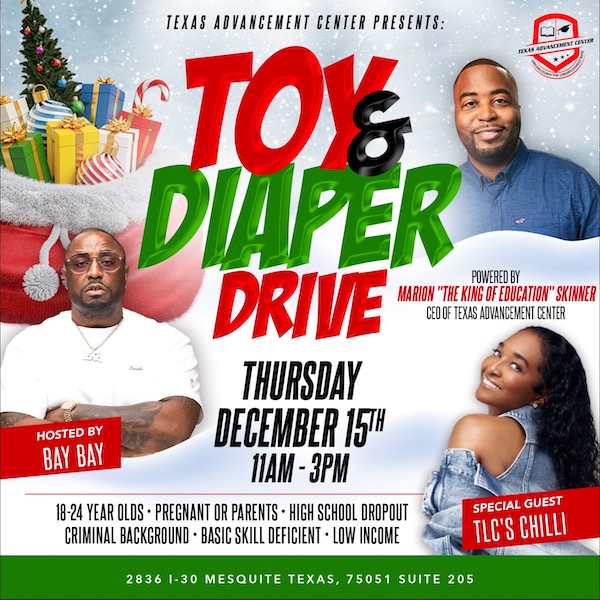 Marion, you are the prime example of a jack of all trades, master of them all. (Laughs) It seems like there's nothing you can't do! I know you have had your foray in several businesses–from music production, to a trucking company, Espada Tequila and more. Please give us some more insight into your diverse business portfolio. 
Well, while my focus has been career colleges, I am also getting heavy into the real estate aspect of it as well. At Texas Advancement Center, because now we're actually bringing in the whole dorm aspect into the college area. So, what we're doing also with the workforces, we're getting them to take care of living expenses for all of our students while they're actually in college with us as well.
I am so impressed by all that you have been able to accomplish with your trade school, Texas Advancement Center. Please give us more insight–What inspired you to launch it, who qualifies, and what's your core mission?
Earlier on, I was inspired to get into vocational education and launch Texas Advancement Center by seeing my mother go through transitions in life which in turn encouraged me to always rely on education to solve problems. I also just wanted to help out the community. Seeing all the job losses, especially our community here in Dallas, it was just ridiculous, and I had to seek out and find the best route to bring down the unemployment rate. I already had the CDL school going. And then that's when I started branching out, and offering some additional courses as well. With those additional courses, at Texas Advancement Center, we now offer medical billing, medical, front office, computer IT, HVAC Tech, and more. We just started hammering away, helping the community to get into the workforce for free. When it comes to who actually qualifies for the program, we welcome anyone ages 18 to 24, as long as you are a parent, if you're pregnant, if you have a background, if you're on any type of government assistance, it's all free. And then if you're 25 and up, as long as you have a background, as long as you're on any government assistance, if you're unemployed or underemployed, you still qualify for free as well.
What's a day like in the life of Marion Skinner?
Well you know, no matter what, I'm still the first and the last person that's going to leave my school. I try to do the day-to-day operations, but I have a great team around me. So, they do actually take off a lot of stress. But right now, my core focus is really just expansion. Expanding and always in different markets. Within the next three to four years, I pretty much want to have an Advancement Center in at least 25 different cities.
I know you are big on giving back to the community. Please tell us about Texas Advancement Center's amazing community initiative, The Toy and Diaper Drive, taking place on Thursday, December 15th in Houston, Texas? 
Yes, we are excited to do another toy and diaper drive, and we always try to do some type of give back in all seasons. We try to also host an open student enrollment, and we are so excited to have the legendary Chilli from TLC with us. It's just going to be a blast.
How does it feel to be teaming up with the iconic Chilli of TLC for Texas Advancement Center's Toy & Diaper Drive?
It feels amazing! Chilli is an icon and it means the world to have her come to Texas to work alongside us to get students signed up and give out toys and diapers to the community; it's just an amazing feeling.
Why did you decide to team up with Chilli?
Not only is Chilli one of the greatest performers to ever live, but she is also a philanthropist who is big on giving back. Education is also important to her, and so she aligns perfectly with what we are doing. We are grateful to have her. Plus, I can't wait, and I know the students and the entire community; are going to want her to teach us the "Creep" dance! (Laughs)
What was the inspiration behind your moniker, "The King of Education?"
When I started the school, I knew it would be a great thing for the community, but I didn't know just how impactful it would be for everyone. Just seeing how many people have been blessed with different opportunities that we actually placed them in, is super exciting and humbling, honestly. I also probably have around six to seven different school owner operators that I've assisted with helping them grow from ground up… So, just seeing the different things, how impactful we have been in our communities, is such a blessing.
What makes Texas Advancement Center different from other trade schools?
One of the main things I will say that makes it different is 80 to 90% of my students look exactly like me, black or brown. Just helping out the people that I'm usually always around that's what makes us different. We like to help out the people right here in our community.
Why is education one of the cornerstones of wealth, and why is a strong education the key to solving many of society's troubles?
I think without education, that's the cause of a lot of our problems, especially in our community. A lot of us are just not having the right resources. Then on top of education, it just depends on what you're getting educated in. So, with us we try to focus on blue collar jobs, different things, industries, that's always in demand. That's one of the biggest things that we actually kind of relied on when we were doing a lot of our research and development. And even through the pandemic, just seeing all the jobs that were actually in demand during that time. Because of course, as you probably know, our community likes a lot of the glitz and glamour, but a lot of those fun jobs that people clamor–a lot of them right now are laid off. So having a viable trade is always crucial to have in your back pocket.
In what ways has Covid-19 impacted learning institutions, and the structure of teaching today? What adversities did Texas Advancement Center experience during Covid-19 and how did you overcome those adversities as a vocational school?
I think for a lot of institutions, it showed everyone that yes, you can do things online. I think that was the biggest thing. I mean, of course, at first it was shoved down everyone's throat having everything online and there were a lot of drawbacks. But now nobody really wants to go in anyway, everybody wants to do everything online, pretty much. So, I think that kind of opened up everyone's mind. Even with these institutions, you're starting to see a lot of people get rid of the brick and mortar, and just go the online education route and hybrid classes, things like that. So, I think just the possibility of being able to actually work online–I think that's what really changed a lot.
What advice can you offer to aspiring entrepreneurs?
I would just say, you just have to have that one thing that you could focus on. Like with me, I had multiple different things that I was always trying to do at one time. Focus on one, I think people forget that coming up. And we try to do so much and not focus on one thing and stay consistent on that one thing; and then everything else will fall in place.
What is next for you and Texas Advancement Center?
The next thing we are working on is expansion. I am excited to share that we are opening up a Georgia location in the Spring 2023; so stay tuned!
Photo Credit: Courtesy of Marion Skinner, Texas Advancement Center
Keep Up with Marion Skinner of Texas Advancement Center:
@thekingofeducation
@texasadvancementcenter
www.texasadvancementcenter.com