Everyday, new fashion brands are emerging and staking a claim in the fashion game; BlackHouse Fashion Co is no different. Terry and Natasha wanted to introduce the world to The BlackHouse aka The Black community, a brand that speaks to the culture from the culture. BlackHouse is more than just a brand, it's a way of life, it's the voice of the new generation.
Where does the name BlackHouse Fashion Co. come from? What or who is the inspiration behind the brand? 
The name BlackHouse derives from the revelation and realization that the greatest contributions ever made to society and civilization come from The Black House (the Black Community). Whether it's fashion, science, medicine, culinary, arts, music, etc. It has been invented, influenced or either inspired by Black Culture, and it is important plus very critical that the Black Community protects and preserves our creativity, culture, and contributions by building our own tables, securing our own economic liberation, investing in our own communities and supporting our own people, businesses and institutions. While we spend over 1.3 Trillion dollars in retail with other brands, our communities are suffering, and our businesses are struggling. It's time for us to bring our dollars, loyalty, and support back home to The BlackHouse (The Black Community). The inspiration behind the brand is to bring black dollars, brand loyalty, business support and buying power back home to the BlackHouse.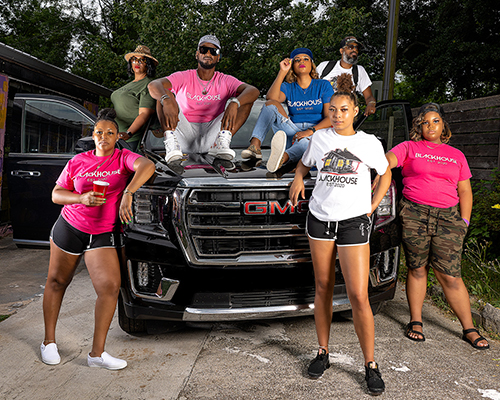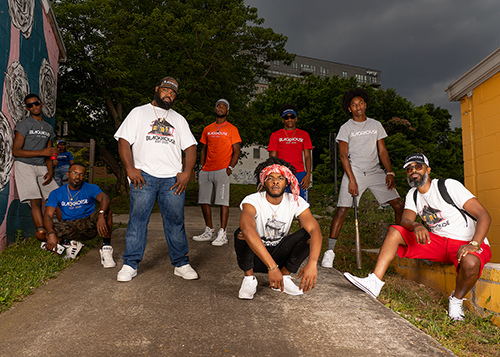 How important is it for BlackHouse Fashion Co to be looked at as a fashion brand?
It is very important for BlackHouse Fashion Co. to be viewed and acknowledged as a fashion brand because black creatives in the fashion space deal with vast inequalities and disparages. Many people have a tendency to refer to new and growing fashion brands as "little" t-shirt businesses. Black brands don't get the same respect and recognition as other fashion brands, particularly white brands. The path to success for Black creatives in fashion is beset with obstacles, disadvantages, setbacks, disappointment and compromise as a result of the well-documented systemic racism and unconscious bias in the fashion industry institutions and businesses. So many organizations have been profiting and making money off Black bodies and Black culture, while we struggle to even get acknowledged as legitimate contenders. There are thousands of brands, but it does feel like it is more difficult for black fashion brands to get a seat at the table and get a piece of the pie. That's why a lot of Black-owned brands are doing direct-to-consumer, creating our own tables. We are in many ways the creators of American culture. So, it's only right that we eat from our own contributions. There's no fashion without black culture. All fashion comes from black culture and black creativity.
Being a black creative how can we unify the community especially through fashion?
We can unify the community through fashion by sending clear messages about the importance of building our own and supporting our own. Fashion brings people together. Black creatives in the fashion space can unify the community by joining our voices in the conversations around topics that are critical to our community and world like Black Lives Matter, Social Injustices, Inclusivity, Economic Empowerment, Humanitarian Efforts and Philanthropic Endeavors. We all have a responsibility to use our creativity and fashion to incite positive change and encourage others to do the same. One of the ways that BlackHouse Fashion Co. gives back to the community is through volunteering, serving and partnering with foundations and organizations like The Swain Foundation and Operation Hope who help feed and clothe the homeless and provide financial literacy to disenfranchised youth. 
Has it been tough opening up a new fashion brand in Black Hollywood Atlanta? 
Opening up a new fashion brand in Black Hollywood Atlanta has had its challenges and opportunities. But no more than what is usually expected in any new startup. Anything worth having is worth working for. And anything that is driven by purpose will encounter resistance at some level. There are many other new fashion brands in Atlanta but none of them are our competitors. We are rooting for everybody black to win. We don't compete because we are in our own lane doing our own thing. We are fulfilling our individual purpose that is unique and distinguished. BlackHouse Fashion Co. is a black-owned and black-operated fashion brand that elevates black culture by promoting, supporting, and encouraging black excellence, black economics and black empowerment. BlackHouse is more than just another brand it's a lifestyle.
Where do you see BlackHouse Fashion going in the next 5 years? And who would you like to work with as a brand ambassador or maybe a capsule collection?
In the next five years we see BlackHouse Fashion Co. going into bigger spaces and arenas. We see its footprint expanding and it's reach going global. We see BlackHouse Fashion Co. warehouse productions, revolutionary new designs, flagship stores and progressing well on its way to becoming an iconic fashion movement. In the next five years we see BlackHouse Fashion Co. doing more community work, activism, and charity. The possibilities are endless to where the brand and the movement will be in five years. Besides rapper, actor and fashion icon Andre "3 Stacks" Benjamin, there aren't any other celebrity brand ambassadors who immediately come to mind. We believe that Blackhouse Fashion Co. is a brand for the people. A brand that is not defined by its association with ambassadors with status or clout, but rather anyone anywhere who is doing the best they can with whatever they have. Our dream brand ambassadors are those extraordinary ordinary people who understand and connect with the vision and movement of BlackHouse Fashion Co. Our ideal brand ambassador is the twenty-year-old girl working two jobs to make ends meet and still chose to purchase a BlackHouse Varsity Jacket. It's the thirty-year-old man with a wife and young children who purchased matching BlackHouse shirts for his family. It's the forty-year-old couple who loves to travel and chose to support our brand and purchase BlackHouse short sets and visors to wear while they are out of town. It's the fifty-year-old woman who owns her own tax consultant service who bought BlackHouse underwear and socks to give as gifts to her nieces and nephews. It's any person who has ever purchased any of our apparel or supported our brand in any way. As we grow to become a fashion force to be reckoned with in the fashion world and business, we would love to do capsule collection with new up and coming black brands, so we can give them exposure and a platform to elevate them a little bit higher. It's all about empowering each other and lifting others as we climb. We can't do it alone. We need the strength, support, and loyalty of everyone in the Black House to elevate our community.
All images courtesy of Blackhouse Fashion Co.