With World Mental Health passing, it's important to reflect on its impact  in every professional industry.  Various coping strategies have been adapted to handle the impact that mental health has had in various industries.  More specifically, the sports industry took a major hit due to crowd and gathering restrictions with COVID-19.  Many school sport organizations and professional leagues were closed due to this hit. 
However, many athletes remained upbeat and continued to work on their craft while off the field.  This was not only necessary to remain in top performance shape but also to support their individual mental health while away from the field.  Many athletes were accustomed to a strict schedule, workout regimen and more but all changed once the pandemic occurred.  Here's how some area athletes supported their mental health during these trying times:
Joey Graves (pictured above):  Graves is a 17 year old Varsity player and Honor Roll student at Old Mill Senior High School in Maryland.  He started his own clothing line called Hustler's Vision as a way to remain positive during his time off the field.  His mission is to motivate others to keep pushing no matter what.  His entrepreneurial spirit has definitely helped him focus on a positive outlook amid this pandemic.  Follow him on social media as @hustlersvizion or click here.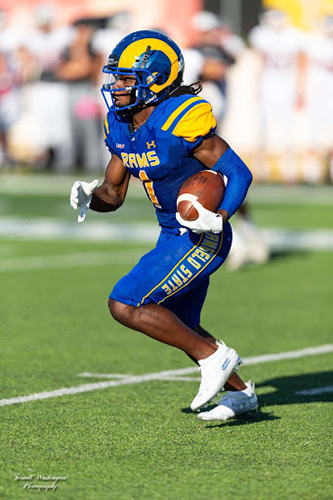 Alize Thomas:  Thomas is a college football player with Angelo State University.  He is keeping a positive mental state by continuing to workout and staying active.  He is also a father and is using this pandemic to spend more quality time with his family.  Follow him on social media as @zudaone.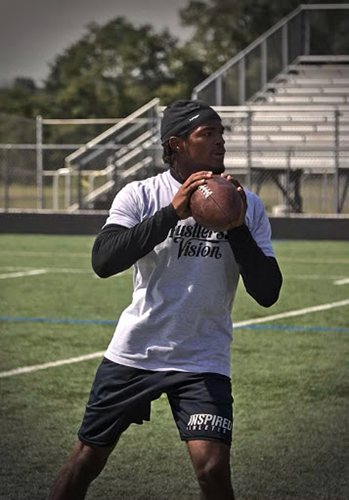 David Pindell:  Pindell is a pro football athlete who is also using this time to regain focus.  He is maintaining his mental health by helping others through various community outreach efforts.  He also continues to maintain a daily workout regimen to remain at a top performance level.  Follow him on social media as @davidpindell_. 
Despite the pandemic, mental health and athleticism pair together for all athletes.  There are also many ways in which athletes can maintain their own well-being.  It's always important to prioritize your mental health first to be an all-star on and off the field.  Use this time to re-group, if needed, in order to be the best version of yourself for your team, your fans and the sports industry.
Writer, C. Scott, is a mother of one; author, social worker, early literacy interventionist and entrepreneur. Follow her on Instagram as @curls_coils and @mysweettealife. 
Featured Image courtesy of Joey Graves