A high-energy self-starter on a mission to help people become greater, Lori Gentles is a radical believer in the power of intelligent, intentional, inspired, individual choice that she calls #iChoice. This belief paired with her expertise as a human resources leader led her to launch The Choices Company and inspired her book, Oh SLAP! Between these two endeavors, Lori has built her reputation for working with highly self-motivated individuals to achieve greatness in every aspect of life. Lori talks about her work and so much more in this Sheen Magazine exclusive you won't want to miss.
Who is Lori Gentles?
I love life and seek to experience the best life has to offer. I'm adventurous and have diverse interests including extreme sports, international travel, snorkeling, hiking, and coming up with creative business ideas to make the world better. I'm a consummate learner, having achieved a bachelor and two master's degrees in counseling and business administration. In addition to my formal education, I listen, observe, and learn from everyone and everything. If you're not learning and growing, you're dying. There's no such thing as staying static.
I'm the founder of The Choices Company. My flagship program—Employeeship: The Path to Leadership—is a refreshing departure from the conventional and reinforces total personal responsibility instead of entitlement. My message of iChoice and my commitment to helping highly self-motivated individuals pursue possibilities without limitation has garnered the praise of peers and business leaders. "What you own, you can change" is my motto.
I'm also a local and international speaker. I've presented in Asia, Africa, and the US on topics such as women empowerment, breaking the cycle of poverty through socially conscious international recruiting, education and employment, leadership and performance management.
Tell our readers about Oh SLAP!
Oh SLAP! is an inspirational book about making better choices. It's about self-leadership and self-empowerment in every aspect of your life. So many books about leadership focus on a leader—someone other than you and what they need to do for others. This book is different; it's unconventional because it focuses on the reader as a leader who is accountable for their destiny and leading themselves.  
This book won't let the reader escape the concept of total personal responsibility for the outcomes in their life. Excuses are useless and reinforce entitlement and victimhood. Words are not minced in Oh SLAP! It's a dose of tough love with the goal of awakening the inner spirit of individual greatness, hence the title. It's like a swift but loving slap on the face intended to wake the reader and motivate them to fulfill their dreams. My intention is to inspire, give hope, activate your power of iChoice, and help you achieve priceless freedom (mental, time, financial). At the end of the day, I want us to all be better versions of ourselves.
What inspired you to write the book?  
The book is a labor of love, an inspired message. The message is simple—take responsibility for yourself—but, unfortunately, the message is not widely lived. It's often easier to blame others for our plight in life instead of doing the hard work of self-reflection and self-development. Being in the people business my entire career, I've seen too many people spend their days and years stuck, unhappy, and complaining about their situation. They don't feel empowered. They wait on others to empower them—failing to realize that they can empower themselves. Empowerment is a mindset, a state of being. Empowerment simply means you embrace your power. One definition says empowerment is the process of becoming stronger and more confident, especially in controlling one's life and claiming one's rights.
What is self-leadership?
Self-leadership is exactly what it says. Whatever you think a leader should be or do, the traits you think they should possess, you assume those qualities for yourself. It's taking responsibility and ownership for your growth, happiness, and financial well-being and not relying on someone else to pave the way for you. It's about acting in your best self-interest in a manner that ultimately benefits you and those around you.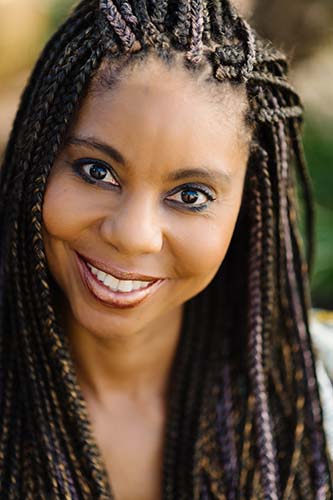 What are some of your greatest accomplishments?
Surviving and thriving through challenges, setbacks, and barriers. Things don't happen to you; they happen to make you. This is the difference between being a victim or victor. I believe most great things were achieved to overcome something. Being the first in my family to graduate college changed the trajectory of my family. Writing and publishing Oh SLAP! is intended to help people recognize their inner genius and get unstuck. Before she died, my 92-year-old grandmother always told me to "be happy." She meant to not let things get in my way. There's very little that we should worry about beyond 5 minutes, 5 days, 5 months. So many people are burdened with perceived infractions and grievances from decades ago and it stifles their happiness. This is not self-leadership. Oh SLAP! helps people face this truth and make an iChoice to change the course of their life.
What advice would you give someone who wants to mirror your success?
Read the book. If it resonates with you and gets you fired up to learn more about consulting, coaching, seminars, or training, you can contact me through thechoicescompany.com. I created The Choices Company to provide highly self-motivated individuals across the globe with the tools to become exceptional self-leaders by moving away from entitlement to empowerment. My flagship program—Employeeship, The Path to Leadership—provides practical tools to help individuals enhance any "ship" they're in (parentship, pastorship, teachership, etc.).
What sense of purpose do you draw from your culture and community?
Unity, spiritual connection, strength, and resiliency. I believe we're all connected and a failure in one is a failure of all; a success in one is a success for all. We'll keep winning when we support one another's successes.
What can we expect from you in 2021?  
I'm open to possibilities. I believe great things are coming. I'm working on a companion book to Oh SLAP!, which will be an anthology of individual Oh SLAP! moments. I define a SLAP moment as one of awareness, clarity, and excellence. Sharing real-life stories is a powerful, inspirational tool. I'm seeking Oh SLAP! moments from people like you. If you have a story that you'd like to share, DM or contact me through thechoicescompany.com. I'll also be promoting my book and spreading the iChoice message throughout the year in virtual events.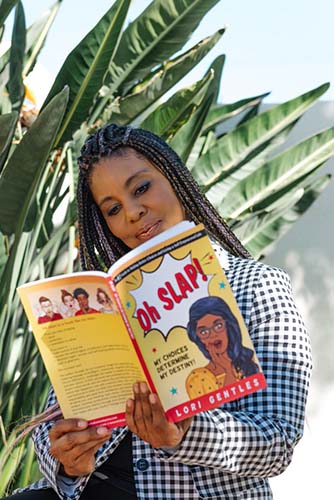 Click here to purchase your copy of Oh SLAP!?
All images courtesy of Lori Gentles