Over the past couple of months, I have had a love/hate relationship with my hair. It's chemically treated, frizzy, dry, and coarse. The amount of heat that I put on my hair is embarrassing to admit but I have had enough and finally put my foot down. I was on the hunt for an affordable, nourishing shampoo and conditioner that did not contain terrible ingredients.
One of my friends suggested a brand called Saints and Sinners so I thought, why not? To my surprise, the luxurious-packaging completely stole my heart (my favorite color is blue). I started off trying the brand's Velvet Divine Daily Shampoo and Conditioner and was left completely shook after the first use. I thought okay, it did a little magic on my hair, let's see what would happen if I continue to use it.
Velvet Divine Moisture Shampoo, $27.50 – $70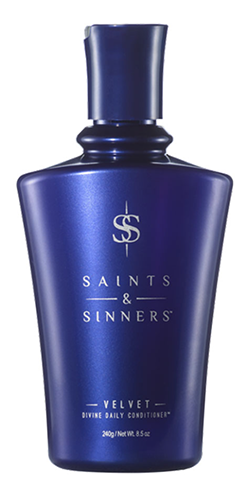 Velvet Divine Daily Conditioner, $27.50 -$70
The more I used these two products, the more soft my hair became. It was like I could feel my hair coming back to life. I was super relieved when I found that both products don't contain ingredients such as gluten, mieral oil, and parabens. In addition, I thought it was super neat that the brand is cruelty-free. I cannot stress how life-changing this duo product has done for my hair. My coarse hair was no longer dry, shining like no other, and feels like it is in the best shape it's ever been.
I swear by these products and cannot wait to try more from Saints & Sinners.
For more information on Saints & Sinners, click here.