An internationally praised Life Coach, poet, author, songwriter, media personality, and inspirational speaker, Yemaja Jubilee is devoted to spreading her message of love and inclusivity with everyone she encounters. She embraces every moment of her life and embodies the belief that each day is a great day to be alive, which are common threads in her beautiful tapestry of work. Yemaja sat down for an exclusive interview with Sheen Magazine to share her story and how she lives to do all things in love for all people.
Who is Yemaja Jubilee?
I am a radiant and loving expression of The Big G—God/Goddess of the Universe—from a small community in Charlotte County, Virginia. My parents considered me special because I was switched at birth. I was given to a Philippine lady in the room with my mom at the hospital in Farmville. One of the nurses corrected this most tragic event and returned me to my parents.
I wanted to be one of the first black women to attend Longwood College, but I was denied attendance. I graduated from VCU in Richmond and completed master's work in Rehabilitation Counseling, focusing on Alcohol and Drug Counseling.
I've moved frequently throughout my life—across Virginia to Tennessee and New York. I've driven cross-country three times, walked in the March on Washington and The Million-Woman March, and frequently travel abroad. This has prevented me from a life of stagnant thoughts and afforded me the opportunity to dive deeper into my inner being, enhance my interpersonal skills, and trust in the evolution of my life guided by The Big G.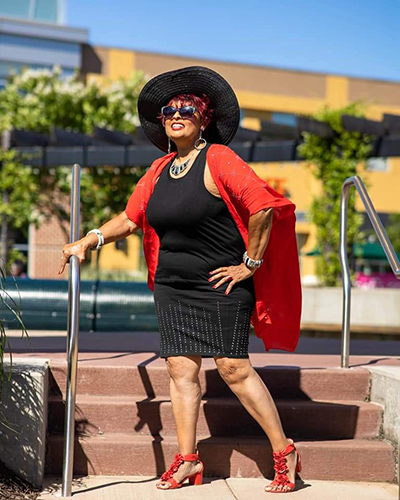 What is Cultural Libations? 
My partner, L. Roi Boyd, and I started Cultural Libations about six years ago to write, produce, and direct plays that express the human condition as art. We've written five musicals and many skits to support local ministers who want to bring their message to the stage for their congregants.
One of our plays, Couldn't Keep It to Myself, was selected by The Acts of Faith for their 2015 program and was presented at the Black Theatre Festival in Washington DC. We've been featured on local and national channels as well as at local peace festivals, RVA community days, and fashion shows. We also sponsor local book signings for authors like Martha High who performed with James Brown for 32 years.
What does it mean to empower?
Empowering is sharing my experiences, strength, wisdom, support, and tools to assist others in becoming the highest versions of themselves. I encourage others to recognize, reflect, and embrace themselves unconditionally. Empowering also means supporting others as they uncover their unique gifts, embody their individuality as creations of the Divine, and learn to love themselves first.
What is Black Wall Street?
I co-produced Black Wall Street: The Money, The Music, & The People with Rebecca Lynn Pierce and RLP Productions. It's a narrative documentary that takes viewers through one of the most crucial moments in American history—Black Tuesday and the stock market crash of 1929. The setting in the Jackson Ward finds residents dealing with the financial abyss as a vicious serial killer that wreaks havoc in their hearts and minds. I co-wrote and recorded the theme song with Jellybeans.
How do you help young women emerge and evolve? 
I help young women emerge and evolve by sharing my experience, strength, and hope. I educate, inspire, support, and give them practical tools to be the best versions of themselves as they take their inner journey to truth, wholeness, and serenity. I explain that this is a continuous and fun process that can be enhanced through prayer, contemplation, meditation, journaling, life coaching, and therapy as they uncover a new relationship with themselves, The Big G, and others. I encourage them to believe, trust, and act from a Spiritual perspective in all their affairs and to always remember, "To thine own self be true."
Tell us more about your book, Couldn't Keep It to Myself.
I started writing poetry at 16 to express my innermost feelings, the thoughts I couldn't speak aloud. I've written poems all my life and discovered it was a record of the growth and expansion of my consciousness. I found 20 poems that told my story and my journey to wholeness, inner peace, and sanity. The poems were originally a play, but the audience kept requesting copies, which was the Spirit's way of guiding me to release Can't Keep It to Myself in 2017.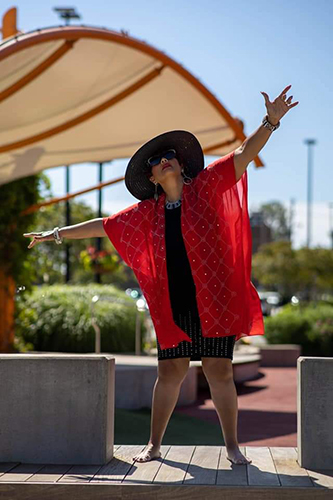 What advice would you give to someone who wants to follow in your footsteps?
We're all given unique gifts the day we are born into this earthly plane. As we matriculate through life, we often allow external programming to cover up or deny our gifts. Changing the trajectory of our lives allows us to uncover and rediscover our innate gifts. So, just living your life in full expression and utilizing your gifts to fulfill your Divine purpose allows anyone to be who they're supposed to be. It doesn't have to look like my life. We are each an individualized expression of The Big G, so let the Spirit be a beacon of light as you follow your heart and listen to the beat of your own drum.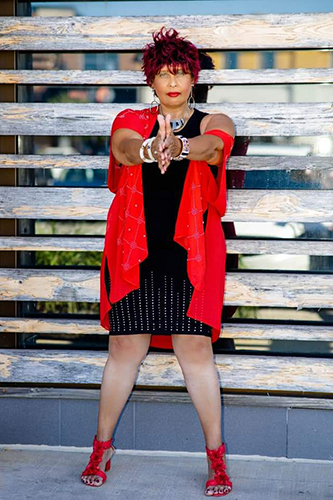 What sense of purpose have you drawn from your culture or your community? 
Purpose resides in your SOUL! It inhabits the many cells and nerves of your deepest, innermost self. My purpose is to be an expression of love, to be committed to my own transformation, and to be of service to all humanity. I am here to glorify and remember my oneness with my neighbors. In doing so, I remain connected and I am my Brothers' and Sisters' Keeper. My mother, Marie, taught me this and was my role model. It's forged in my memory to do all things in LOVE for ALL people.
Please share a poem with us.
SHE
By Yemaja Jubilee
My mind was inspired today
By someone The BIG G sent my way.
She wore a beaming smile
I could tell her heart was filled with love.
As she began to talk and explain
I felt "Wow!"
This feels good
To be in the presence
Of positive thinking again.
As I began to share my hopes and ideas
Even my dreams
I felt completely at ease.
I knew when the conversation ended
She was someone
I would come to know and love her.
At last I was able to call her my friend
She was me and I was she.
All images by Cameo Models Internationale