According to the Merriam-Webster dictionary, the word sur·​vive | \ sər-ˈvīv  \ means intransitive verb
1: to remain alive or in existence : live on
2: to continue to function or prosper
And that is EXACTLY what Lady Theresa Whitfield has done and is doing. Theresa has a very commanding presence. Her humility is the thing that draws you to her. In this exclusive interview with her, Sheen had the privilege of learning not only she survived in her near death experience; but also how she is thriving.
"I am a beautiful child of God, a fearfully and wondrously made woman of purpose, a survivor and an overcomer, a testimony ready and willing to bear witness to the goodness of God and to His powerful presence in my life and in the world." – Theresa Whitfield
Why do you feel so compelled in sharing your story?
I am compelled to write my story for I have met so many people on my journey that feel as if no one cares that they just lost their job, or that a mothers child has been taken away never to be seen again, or that someone is being abused every day, that someone is doing drugs and alcohol, addicted to pornography, sexual misconduct, someone is experiencing depression and thoughts of suicide, and believing that no one cares. I, too, have felt no one cared. I wanted to tell the world what happened to me way before July 22, 2007. This is why I feel so compelled to share my story.
It is only when we accept the challenges and walk by faith will we rid ourselves of fear and rediscover that purpose within yourself, as we are taking in the challenge to celebrate your scars.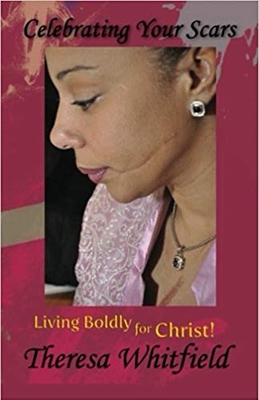 What is the greatest lesson that you have learned from what you went through?
I have learned so many lessons, one lesson I learned is that I am more resilient than I thought, but the greatest lesson of all is how overtime I saw myself as more than a survivor but a thriver.  It was only when I moved beyond the experience and committed to living a new life with optimism and empowerment did I become a woman who now thrives.
As a thriver, not only have I gotten through or bounced back from adversity, but I am renewed, resilient and inspired by dreams for the future. I have made peace with the new circumstances.
What happened to me on July 22, 2007 was beyond my control, but my reactions can be chosen only by me. It does not define my life forever, but is was a temporary roadblock requiring a detour.
How do you approach obstacles now as a result of what you went through of being stabbed?
I approach obstacles from a different perspective. Not so much as in a negative, but in a positive, for its all about perspectives.  The approach you take to shouldering an action is as important as the time you spend on the task.
Whether you realize it or not, you've al‐ ready decided whether or not you believe you'll succeed.  During trials, and test I try to keep a level head and to think hard about what kind of person I desire to become.  Am I an optimist, full of faith in myself and, more importantly, in the God fueling the divine fire inside of me? Or am I a pessimist, denying myself the means to succeed? Norman Cousins, journalist and author, once said, "The enemy is a man (or woman) who not only believes in his own helplessness, but actually worships it… He is an enemy because of the proximity of helplessness to hopelessness." If you are a pessimist and failing, the greatest enemy you'll face on your road to purpose is yourself.  Sometimes when we face obstacles, we may have developed limited beliefs about who we are or what we are capable of that is when we are to listen to our inner voice. That whisper that reminds us of what is important. And always remembering that today is my gift from God. No matter how tough the path is, no matter how dark the days, God's got something great in store!
A lot of people "believe" there is a God. How do you know there is one?
Just 27 percent of adults in Western Europe believe in the God described in the bible. I know that there is a God through the word of God, which is the bible that was given to me by my mother at a very young age. As I was taught to believe in God and his word "For the word of God is living and active… discerning the thoughts and intentions of the heart. And no creature is hidden from His sight, but all are naked and exposed to the eyes of Him to whom we must give account." Hebrews 4:12-13
On July 22, 2007, I thought I was whole, I thought I had it going on; but God had to do some‐ thing drastic to get my heart. He had to do spiritual surgery. While the plastic surgeon performed the surgery on my body, God was creating in me a new heart. I was a victim and a survivor for a moment.  But I am forever more than a conqueror.
Connect with Theresa through her Publicist: Ks@cbagency.co
All images courtesy of Theresa Whitfield