Erika's one of the most inspiring women for the Latina community. She started with nothing. Coming to the USA at a young age with nothing.
She always felt that she was going to do something huge in this world. Not knowing but she always felt in her heart. Moving to LA in a small apartment with nothing having her parents working many jobs she knew she was going to do something big in life. That little voice in her moved her in a huge way.
Many people would tell Erika to read because it would help her in the long run, and she thought well what? Vouge? Magazines? They said self-development and entrepreneur books. Lead her into real estate.
Her sister came to her with an amazing opportunity of the life insurance financial industry she thought it was a wild idea. Of a brand-new company coming up. When I decided to do it. It changed my life completely.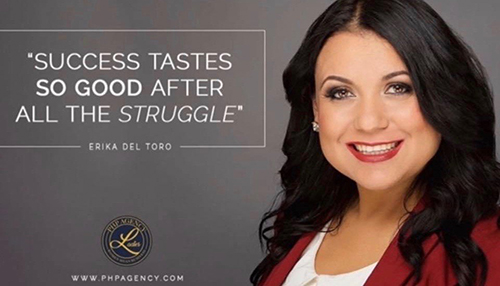 With the mentorship of her sister Marleen Gaytan and Patrick bet David and Jennifer Bet David moved mountains. I'm blessed to have them in my life and for pouring so much in me.
Now my life has changed being a self-made millionaire, alongside my brother and sister.
Now the company is huge in the front line. Has had so much success and I've been able to help people get out of there 9-5 jobs and make six figures. At the end of the day it's about people helping people.
For more on Erika Del Toro, follow her on Instagram today!
This feature was submitted by Kalen Hawkins
My name is Kalen Hawkins, I am from Atlanta Georgia. I am a writer and PR for Quality Impact Entertainment. I got my bachelors degree at Georgia State University in Mass communications and a minor in Sociology. My goal is to help others brand themselves and I want to make the best situation for everyone that I work with building solid relationships with like minded people.
All images by PHP Agency