One listens to Thuy's smooth, buttery voice, and they immediately fall in love. Hailing from the Bay Area but now calling sunny Los Angeles home, the rising Vietnamese star serves as a breath of fresh air in the music industry, bringing back those feel-good R&B vibes that we all love and miss. Plus, she serves as a role model for all the little girls who look like her).
Inspired by the 90's era, Thuy lists Britney Spears and Christina Aguilera as her biggest inspiration, but her sound transcends genres. The singer-songwriter pours her heart into her music with honest and vulnerable lyrics, with catchy hooks and beats that you can't help but move to. Exploding onto the scene with her breakout single "Hands On Me," which landed her radio play on 106.1 KMEL, Thuy has since organically picked up fans from all over the world.
Fast forward to 2021, Thuy returns with her highly-anticipated debut project titled I Hope You See This. The 9-track project is a testament to all her past relationships while letting her current one know she appreciates him.
Sheen Magazine caught up with Thuy at The Basement in downtown Los Angeles. We discussed her new project, why she named it I Hope You See This, streaming numbers, her current favorite song, beauty go-to's, her fashion sense, selling out her hometown show, and more!
For those who don't know, who is Thuy?
Hi guys, I'm Thuy. I'm a singer-songwriter from the Bay Area. I just dropped a project called I Hope You See This, and I hope you guys see it!
How does it feel to have this project out?
Wild. My first debut project. I worked on it for two years. It was so hard even to hold back the songs because I'm very impulsive. I'm the type where I want it out if this shit sounds good. So to hold back all the pieces was hard to do. But now that all the people get to enjoy it, it's such a fulfilling feeling. Especially as an artist, you want people to hear your music. I'm just grateful.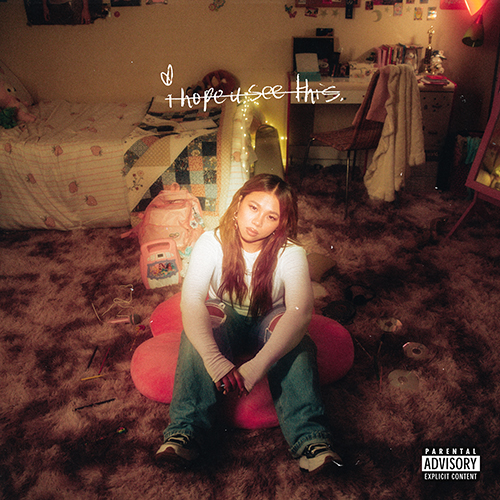 How does it feel to have 10 million streams on your project independently?
I have no words, honestly; I feel grateful that people even listen to my music. I'm thankful that they're able to take themselves into another world, just for at least 22 minutes. It means a lot that they let me share that space with them, and it's super dope. 
What did you name the project I Hope You See This?
Because I want the toxic relationships or the toxic ex to see or hear the project and see how much I've grown from it. I enjoyed the people who didn't really believe in me to see it and be like, "Whoa, she's actually really making some noise." I wanted the little girl at home that looks like me to say, "Whoa, I can be a popstar because Thuy is doing it."
What do your exes think about the project?
I don't know. They haven't texted me; they haven't called me. Who knows if they even heard the project? It was a phase, you know?
What's your favorite song and why?
That's so hard. It changes all the time, but right now, my favorite song is "Figured U Out." Because it's not your typical breakup song, it's an empowering breakup anthem. You're like, "I'm sad, but I'm going to dance through it and get through it." That's why I like this song.
What are your beauty go-to's?
Honestly, my mom put me onto Shiseido. It's this Ultimune serum. I swear, it makes such a difference in my skin. I should have listened to my mom sooner. She knows what she's doing because she looks like she's 21. I use Shiseido serum, sunscreen, lip balm. That's it. 
What inspires your fashion? Love your vest.
Thanks, I try a little bit when I'm not in sweats. This is the most I'll try. If you try to get me in a dress, it's not going to happen. My mood is usually very cozy/casual. I like to keep it chill. I hate dressing up because I don't feel like myself. But when I'm in something sporty or cozy – cozy is the key, then I feel good.
How do you want to be remembered?
I want people to remember me as kind and genuine — that they could have an actual conversation with and feel like they're being heard. So beyond the music, I want to be friendly and positively impact them.
How did it feel about selling out the SF show? I'm from the Bay, that's beautiful.
Thank you so much! I have no words; I'm just grateful to be here. I'm pleased that people feel impacted by my music, and they want to come out and see me perform. It was an incredible feeling to be back in the Bay Area, where I'm from, and experience a live crowd. I feel like, during the pandemic, I've just been at home and talking to the supporters online. But to see them in person, be with them, dance with them, it felt like love. I felt an enormous amount of love that entire time.
How are you liking LA?
I love it! It motivates me every day. I love the Bay Area, but being here in LA inspires me. Everybody's hungry energy, they're always working towards their goals, and it motivates me to work towards my goals. So I love it, I love it here.