Producer and writer, Christina Cooper is best known for her project, Dear White People, Never Heard, and South Central Love but the multi-talented creative is here to let you know she's dipping into all aspects of entertainment and even outside of it as well. The well-known actress, model, and self-published author has recently stepped into the world of beauty and man has she already made quite an impact. Cooper recently sat down with us to discuss her brand, Island Gal – a brand dedicated to the everyday person, who just wants to add a little spice to their wardrobe. Cooper dished on her favorite items from her brand, her start in entertainment, and upcoming projects.
How did you first get into the world of modeling? 
I actually started off in Los Angeles. I was working at Coach. I got scouted in the mall and ended up doing my first photoshoot. I got signed to an agency in Los Angeles. I went off to New York Fashion week and then I was able to get signed to an agency overseas. I did Milan Fashion Week and Germany Fashion Week. I did a few different things that I never thought would actually happen. It happened so quick, but I modeled for a few different designers before coming back to Los Angeles. I transitioned into acting but the fashion world that I experienced overseas kind of inspired me to create my own designs and brand. I like to give people a variety through my brand. Now, I'm focusing on my brand and not doing too much modeling at the moment. A few companies I've modeled for include Adidas, Vogue, Miu Miu, Anastasia of Beverly Hills, Roberto Cavalli, Black Pyramid by Chris Brown, Rose Marron by Joyce.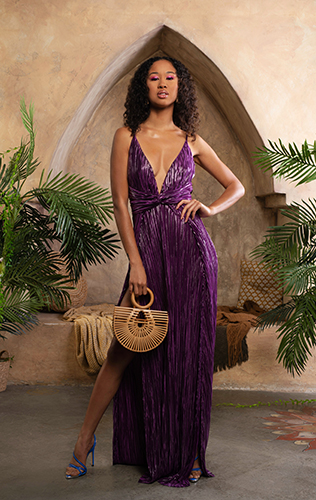 What made you want to transition into the fashion industry?
When I was overseas, I feel like that is what inspired me. When I went to New York Fashion Week, it was very new. It was interesting but I wouldn't say that it was what inspired me to step into fashion. When I went overseas, I was able to really get behind the scenes of these designers. I saw the fabrics used, the clothes in general, and the overall creativity. I'm a very creative person in general. Whatever aspect it may be, I love art. I love creating and just thought it was really dope. I also wanted to make a brand that was good for all body types. I also have a beauty line as part of my brand, so inclusivity is important to me. I wanted to provide something for women of color, that was my main focus.
Can you give us insight into Island Gal? What is your favorite product and why?
Island Gal stems from me wanting to start a clothing line. It started off with just clothes before I added skincare, makeup, and haircare. Everything is organic and vegan-friendly. I went with the name Island Gal because I am half Jamaican and half Chinese. My father Ashton Cooper is Jamaican, and my mother May Cooper is Chinese. I wanted to make something tropical that represented one of the two cultures. When people go on vacation, they have pieces offered that will give them that. If they aren't on vacation, we have pieces that will dress them up stylishly and trendy. I wanted to figure out a way to mix it. I went with the name Island Gal because it represented my culture and I wanted to do something different, a little risky with the title. I also have my amazing little sister who is an exMy favorite pieces would have to be this two-piece skirt set. It is a long sleeve puff sleeve top with a pencil skirt and belt buckle. It is antelope and zebra mixed with tiger print. It's really dope and earthy. I love that it is tropical at the same time. That is my favorite look so far. I have a mixture of more casual items as well. There are looks specifically great for vacation though. In terms of skincare, I have an organic vitamin C Serum for the face. It helps with dark spots and gives your skin that glowing, healthy appearance. It's great for all skin types. It is my best-seller right now. I just restocked in that. I'm torn between the two but there are also my lip glosses. I have organic hydra-lip glosses. There are champagne colors, café colors, and eyeshadow palettes that are great. Those are my top picks right now.
Tell us about the upcoming television and film projects you have coming up.
There are a few different projects we're working on now. My first movie that I wrote, directed, and produced surprisingly, got picked up by BET earlier this year. I was able to network and build my horizon with that. Right now, I'm filming a film called Trading Souls. It's super funny, almost like a Freaky Friday but it's with a white and black kid that switch bodies. It's controversial but really interesting. It's a comedy that includes Shiggy,Faizon Love, and we're adding a few more cast mates to that project. There is another project called, Rising Six. It is a superhero film. We'll be filming that in March. We're turning a film called Never Heard into a series. The movie was directed by Josh Webber. Now we've teamed up for the series. It will include Romeo Miller, Karrueche Tran, David Banner, Kandi Burruss, and more. There is also a film called Super Turnt which is directed by Mann Robinson. I was added as a producer for that project. It includes me, Mann Robinson, Torrei Hart who is producing and starring in it. There is Jamal Woolard starring in it as well. Finally, there is a controversial series. The first episode was actually released on iTunes and Amazon Prime. It's called Cracka. It is basically about this white supremacist that gets pushed back in time. It is a whole different world where the African Americans are the slave owners, and the whites are the slaves. It's a really controversial plot but it is something that has never been done. It's super dope and has been getting great reviews. That project will definitely be something legendary, I feel like. It is really risky but different.
What are you currently working on and what can we expect to see from you in 2021?
I would say right now, I am focusing on the Island Gal brand and these projects coming up. That is really what will be going on in 2021. There will be more movies, television shows, acting roles, and some projects for BET as well as some projects I am trying to get together for TV One.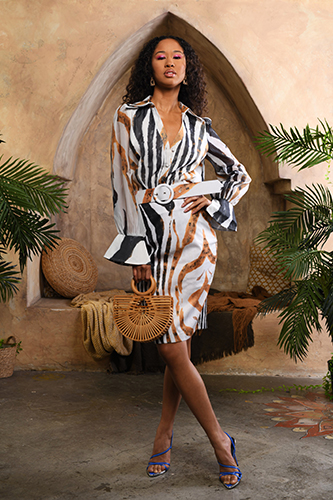 For more on Christina Cooper, click here.
Stay connected with her by following her on Instagram.
Purchase your items from Island Gal today by clicking here.
All images by Stevie Murrell