She's a 400m State Record holder, a creative, a singer, and actress! Chloe Abbott is a young woman with so many talents we can barely keep up – literally, her track record is impressive. On top of her accomplishments on the track, she just recently released a brand new single titled "Slim Thinn" as an anthem for young women to appreciate their bodies. We caught up with Abbott to discuss what made her want to step off the track and dip her toes into the world of entertainment.
Tell us how you got into track and field.
I got into track and field in 8th grade. My sister was doing it and my parents told me to just do it with her. I tried it out and my coaches saw the potential in me, so they began to push me to try different races. It kind of evolved into what it is now from then (laughs).
What made you want to step into music and acting?
My mom always says that I have been singing before I could even speak. I've always had an act for being in front of the camera, appreciating attention, and I loved to perform and please people. My mom thought it would be best to put all of that energy into theater, singing, and dance classes. That kind of evolved over time as well. I actually really appreciated everything that came along with that and the overall entertainment environment. After all of those classes and investing so much of my time into it, I found who I am in the entertainment industry that I really like. Now, I'm trying to capitalize on the foundation that I've created from when I started.
Can you tell us about your single, "Slim Thinn"?
"Slim Thinn" dropped on February 13th, 2021. That is what I call a passion project of mine. It's so vulnerable. I talk a lot about self-love, self-appreciation, and appreciating your body image for what it is. It also sheds light on skinny women across the globe. It kind of highlights the struggles that skinny women go through. It's an appreciation of the fact that they don't have big boobs, a big butt, or curves. The song just hones in on how important it is to love yourself and how it's a great gift to give to others. Also, I am also a Black woman, so I think it's important for Black women to appreciate their bodies, especially in our culture where a lot of Black women are highlighted and appreciated because of their curves. I just wanted people to feel not so alone; being skinny and not having the everyday appreciation of the big boobs and butt. It started out as an anthem for me, just to remind myself to love myself regardless. I am pretty skinny (laughs) but then it turned into an anthem for people all around the world who are like me.
What are you currently working on and what can we expect to see from you in the 2021?
Right now, after "Slim Thinn" dropped, I kind of decided to focus all of my attention on the Olympic trials. I'm currently training for that. I've already got the qualifying standard for the trial so I will be there in July. Right now, I just have to focus on that because it's a big accomplishment. I'll do little projects outside of that with my friends to create music as much as I can. I'll also work with different social media platforms to showcase my personality and make my audience see that I am more than just a singer and track runner, but I can also act and play a role. I'm just prepping my audience for what's to come and training for the Olympic trials.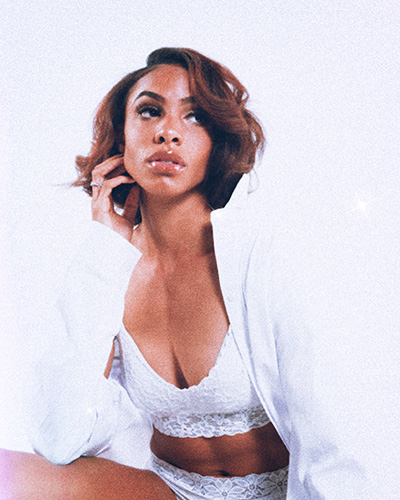 For more on Chloe Abbott, follow her on Instagram & Twitter.
All images by Treagan Colston