Our hair is often seen as the crown of our "queendom."  It embodies our identity, character and sense of self.  From the root to the ends, we base our whole identity on what grows from our scalp.  Women often have better moods once their crown of hair glory is slayed to the Gods.  Women often wear certain outfits to compliment a single hairstyle.  Hair defines you.  Or does it?
Are you any less of a woman without the hair?  Are you not slaying your goals without hair on your crown?  Although many see their own hair as their livelihood, it is not.  Your inner core is where your beauty lies. The outer experience is only a mere icing on the cake.  Professional hairstylist and business owner, Tye Camper, is making her mark in the beauty industry by first seeing her own beauty from within.  
It is estimated that nearly ⅓ to ½ of all Black women experience hair loss at some time in their life.  While all hair loss isn't permanent, many types are due to a condition known as alopecia.  There are many different types of alopecia but they all result in some form of hair loss due to either genetics, wearing tight hairstyles and more.    
"I have traction alopecia around my hairline," says hair mogul, Tye.  "When I was younger I did not take good care of my hair.  I wore weaves, tight braids and more that damaged my hair," explains Tye.  She is now vowing to professionally treat her hair to rebuild her hair follicles following her liberating choice to do the "big chop."  "The big chop was my stripping season to focus on God instead of the next hairstyle.  I will now pray over my crown in addition to following my spiritual walk to take my life in stride," continues Tye.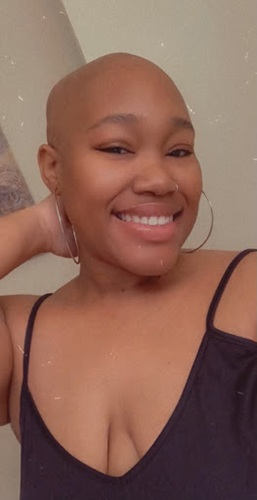 Tye turned her hair journey into a spiritual awakening that also led to her move as a business owner.  "I knew my time was up for months and I knew it was time for change," explains Tye on how she started her business.  She always knew that she was a braider so she went back to her roots of hairstyling.  She started by doing hair out of hotels from Baltimore, MD to Easton, MD.  It wasn't until her brother joked about doing hair out of the "trap house" that the name clicked and birthed her empire of Tye's Hair Trap.  From jumbo knotless braids, lemonade braids and also a spice of color; she has your crown covered.  Similar to a rollercoaster ride, the adrenaline rush of a client's smile and hairstyle is what fuels her day to day grind.  Tye's Hair Trap also sells merchandise in addition to providing the latest hair slays to its customers.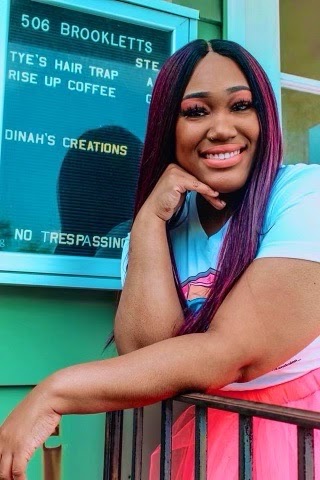 "I'm embracing this journey as best as I can," explains Tye.  She is now professionally taking her personal hair care into her own hands while also speaking hair life into her clientele.  She offers maintenance tips for her clients in order for them to keep their mane healthy.  Tye even has current clients who also suffer from alopecia so her hair journey had laid the example.  Tye loves to instill inner and outer beauty in the lives of her clients.  She is truly trappin' in her purpose for all to see.  Connect with her on Instagram and visit the official website.
Writer, C. Scott, is a mother of one; author, social worker, early literacy interventionist and entrepreneur.  Follow her on social media as @curls_coils and @mysweettealife. 
All images courtesy of Tye's Hair Trap