After pursuing his career in the world of football, former NFL wide receiver, Trent Shelton is [now more than ever] dedicated to promoting positivity to others around the world. Being known as The Most Impactful Speaker, Shelton as a creative found many different ways to reach others. Whether it was through social media or even his new book, Straight Up: Honest, Unfiltered, As-Real-As-I-Can-Put-It Advice for Life's Biggest Challenges – Trent has aimed to create lasting change in all our lives. We caught up with him to discuss the inspiration behind his new book, quarantine life, and much more!
Tell us about the inspiration behind your book Straight Up: Honest, Unfiltered, As-Real-As-I-Can-Put-It Advice for Life's Biggest Challenges.
I guess there are two inspirations behind the book. The first being my personal experience growing up. I didn't have a lot of great mentors, but I did have great coaches. My parents were awesome, but I think there are some cases where if I would've had straight up realities, I wouldn't have made the mistakes that I made. I think in the generation now, it's more prevalent than ever to have straight up conversations and not sugar coat anything. The other inspiration came from young adults reaching out to me on social media to share their need for inspiration and want to understand how to make their dreams come true. I knew in my space and that there weren't many books out there like that, I could release this book to help the youth.
Why do you believe this book was so important for you to release now?
I couldn't have planned it for this time but with the pandemic, there are a lot of mental health issues. In kids dealing with school being a lot different, not seeing their friends, and so on. It's a time of reflection. The beautiful part of sitting down and being still is that you get to reflect. Sometimes when life is so busy and we're moving, we don't have time to evaluate or reflect to make changes necessary. I think this book is the perfect release to help people understand what they need, add/remove things from their life, and contribute to their life for change.
Tell us about the organization, Rehab Time.
Rehab started back in 2009. It started with me. I didn't have a plan to make an organization or write books today. I just knew that I had to Rehab my life. Rehab stands for Renewing Every Heart And Body. The word also to me means putting strength back into a weakness. I developed three pillars: Reality is the first one. My definition of that is that you will never win your war by running from your battles. You have to face what you have to fix, or you will never fix it. The second is Release. I like to say that there are certain things in your life that can no longer be there. There are certain bridges you need to burn and there are some things in your life that you cannot afford to go back to. You have to make those necessary changes. Finally, Repair. After you release it, you have to repair. The only way to harbor true strength is to repair. If we don't solve issues at the root level, those problems or habits will find its way back to the surface. That's what Rehab Time is all about as a whole – whether it's in sports, online, or through books. My mindset is to educate others in the framework based around Rehab Time.
How has quarantine life been for you and your family?
It's been different. It's been an adjustment. For the first month, it was a bit of a struggle. We have a newborn; my daughter is here and does not understand why she can't go to pre-school. I have an 11-year-old who adjusted well but there is a lot of emotions and when you can't get out of the house, you can't release those emotions. It's frustrating for everyone but we've learned to develop a system to ensure that we're all protecting our peace and taking care of our mental health. We just have releases whether it's an emotional release, spiritual, or through conversation. We set up an environment where we could do the necessary things to make sure we're all good mentally.
What are you currently working on? What can we expect to see from you in the future?
The same things you all have been seeing. I will continue to impact the world through Rehab Time. There are hearts that have not been heard or heard or Rehab Time. I'm going to continue to go down this stream whether it's through books, films, or the videos on social media, I'm going to continue doing what I do.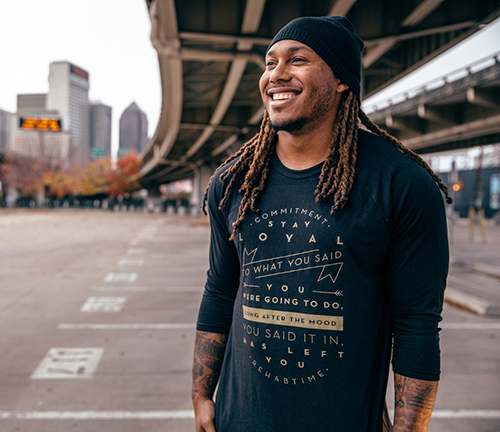 For more on Trent Shelton, click here.