Whether or not you're into pumpkin things, you should really get into all the popular trends and try out products specifically made for the season.
Joshua Zeichner, a board-certified dermatologist at Mount Sinai Hospital shared in a statement to Allure, Pumpkin is rich in alpha hydroxy acids (AHAs), which help exfoliate and renew the skin." Zeichner added, "It also contains high levels of antioxidants like lycopene, which protect the skin from free radical damage."
We know that pumpkin helps exfoliate and renew the skin. I've tried pumpkin masks, serums, and even cleansers. I'm here to let you know that it is 100% worth the try.
Here are five pumpkin-infused products that will have you loving the fall season!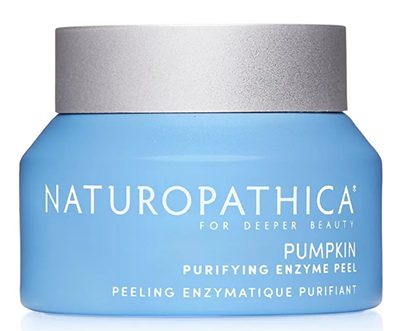 Naturopathica Pumpkin Purifying Enzyme Peel, $58
This treatment is super intriguing to me. It is an enzyme peel that deep cleans the skin and also exfoliates it. That's not all! It contains hydrating glycerin and honeysuckle extract that is super nourishing to the skin.
Native Pumpkin Spice Latte Deodorant, $12
You guys know how much I love a natural deodorant. This one from Native is one of their best-selling products. Think of smelling like a pumpkin-spiced latte all day!
Peter Thomas Roth Pumpkin Enzyme Mask, $60
Peter Thomas is a popular skincare brand that doesn't necessarily need us to give an introduction. This enzyme mask from the brand includes pumpkin puree and enzymes that will help brighten up the skin. The vitamin C and E in it will fight off the dullness of the skin and fine lines.
Burt's Bees Pumpkin Spice Lip Balm, $4
I just love how cute the packaging is on this lip balm. It seriously makes me feel like every day is fall! It's super nourishing on the lips because it contains a coconut oil base. No one likes chapped lips during the cold weather!
Tony Moly I'm Real Pumpkin Sheet Mask, $6 for two masks
You guys know how much I love a good face mask. This one really does all it claims. It's helped clear my skin and I've noticed that my skin is a lot more even as well. All it takes is 20 quick minutes.