Kiana Dancie recently released her new book BYE BYE Bags: Laughing to Lighten the Load that encourages women to heal and release themselves of the baggage that may be weighing them down. The comedian learned that therapy came from the transparency she shared in this book, and she now believes she can lighten someone else's load because of her journey.
Can you tell us more about who is Kiana Dancie?
Kian has a glowing smile and a dynamic personality, she has always been the life of the party — and destined for success. She is a multi-hyphenate is a powerhouse author, comedian, speaker, media personality, actress, and entrepreneur, both on and off stage.
Kiana is a former co-host of TV ONE's nationally syndicated talk show, "Sister Circle Live," and was also a featured comedian on the hit TV ONE show, "Who's Got Jokes?" with Bill Bellamy, where she destroyed the stage. She starred on Bounce TV's "Off the Chain," where host Rodney Perry introduced her as a beast! 
She continues to surprise and delight audiences across the country with her dynamic personality and colorful life experiences on her sold-out "Single in the City" comedy tour.
 Kiana was hand-picked by Kevin Hart to perform on his LOL Stage at the Montreal Comedy Festival. After delivering a fantastic set, she was promptly cast in two movies: "SEXTUPLETS," with Marlon Wayans for Netflix, and "One Crazy Christmas," a BET & SHOWTIME feature.
You recently released your book, "BYE BYE Bags: Laughing to Lighten the Load," can you tell us a bit about it? I am going to be very 
Many people wanted to know why I wanted to write this book and I'll be honest the initial reason was very selfish. It was purely to capitalize on my recent television appearances. I wanted to have something tangible for people to buy and remember me. I had gotten plastic surgery to remove the bags under my eyes and as I was laying there healing on the outside, imagining how much prettier I'd be once I completely healed, God whispered to me and said, "Yes, you'll be pretty on the outside but baby, you're ugly on the inside!! All I could say, is "God who are you calling ugly! He said loud and clear… YOU! So, after writing and rewriting many chapters, my reasons have changed, and my mission has become more clear. I realized someone else is probably managing the same or similar bags that I juggled. I've been knocked down, but I've also gotten back up each time. I was amazed at how many emotions were incited by reflecting on the past and reliving various situations. It quickly became obvious that I hadn't completely healed and sharing became my therapy.
You have an upcoming book launch; can you tell us more about it and what people can expect? This event has passed, but it was literally magical! I am so blessed that I have so many people who are willing to celebrate me! My FANily has proven to be very loyal, patient and unbelievably supportive! 
How can someone find their purpose and overcome disappointment? 
Wow! This is a heavy question! Most people are constantly looking for their purpose. Once we fulfill our purpose, we find peace in our heart and joy in our lives. I always encourage people to use their time pursuing a passion or serving others. Purpose will find you!
One of the hardest things in life is understanding that disappointments will come. We will all encounter them; it's how we respond to them. My best advice is to never give up! Keep pushing forward and you'll get there!
With November being National Entrepreneurship Month, how do you balance owning a local business while juggling your comedy career? Being a business owner and A BUSINESS is definitely not easy. I pride myself on being able to run both efficiently. I can't lie, I don't run my empire alone. I have assembled an amazing team, and everyone plays their position and together we win! Becoming a franchise owner of CPR – Cell Phone Repair was one of my proudest moments.  There's been many days that we've wondered why we even got into the industry, due to the many obstacles that we've had to overcome. My mom and I are the only 2 African American women that own within the company and along with my brother, we have built a successful business. Every customer is treated like family, and we go above and beyond to give our customers the best experience! When I have to go on the road to do shows, my business partners (Mom and my brother) are always in position to keep the store running. Being an entertainer can be very complicated. There's always so many moving parts and multiple variables that need to be managed. I am blessed to be surrounded by people who are always in position to manage any situation when it comes to me.
Do you have any tips on managing stress and sadness during the holidays?
I tell people all the time to be selfish when it comes to their time. It's also ok to say no. Stop pouring from your cup till it's empty, offer the saucer instead. I also subscribe to PCP. No, I'm not talking about the drug, I am talking about P- for PRAYER but Prayer without work is dead! C- is for Couch. Don't be ashamed if you need some therapy! Go sit on somebody's couch to unpack your baggage. And last but not least, P is for Prescription.  Get the meds that you need to help you get thru your dramas and traumas. 
What advice would you give someone interested in following their dream of being an author, TV personality, or comedian?
My only advice is NEVER TAKE YOUR FOOT OFF THE GAS!!!! Keep trying no matter how many NO's you get! ALL YOU NEED IS ONE YES!! Write the book! Take acting classes! Take the audition! GO!!!! 
Do you have any additional projects coming up that you can speak about?
YESSSSS!!! GOD IS SOOO GOOD!! I have so many projects that are in development, but I'm most excited about my book tour.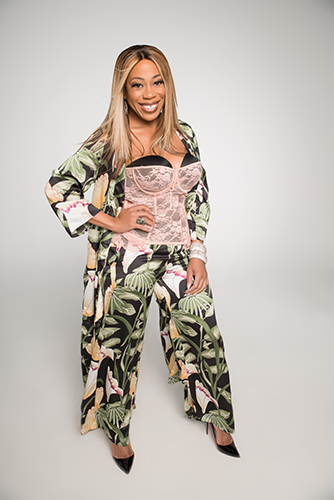 How can people connect with you and everything you have going on?
On all social media platforms – @KIANADANCIE Please follow me on Facebook, IG, Twitter, TikTok and YouTube. And my book can be purchased on Amazon, Target, Barns and Noble!! Literally any place you can buy books! If you purchase from website, they get an autographed copy!  
All images by Tammy McGarity