The beloved TV Star shows up and shows out with a new outlook on life.
FOR IMMEDIATE RELEASE
 Isn't it insane how changing your point of view can literally change your entire life?! Well, that's what this issue reflects–a new outlook on life. It's crazy how a person who hates mornings can evolve into someone who is up at the sunrise, prepared with a daily morning routine! So, how will you change your outlook this year to create a new habit?
SHEEN Magazine, the Ultimate Beauty Guide, is ready to give you a new outlook on life! And to commemorate this issue, we have enlisted none other than bonafide TV Personality and Serial Entrepreneur NeNe Leakes. The outspoken Reality TV Star shares a glimpse of her new outlook on life as she navigates through her new journey.
 "I think that it's very important for everybody to speak their mind and speak up for what is right. I've always been the person that did that–just like you read me that quote a few minutes ago, I live my authentic self. It's very important to do that. You should always speak up for your rights."—NeNe Leakes
 Our digital cover girl is the ever-evolving actress and influencer Reginae Carter. The daughter to rap royalty Lil' Wayne and Toya Wright, Reginae, is showing up and out in the looks that kill from her collection, Tom Girl!
"I want TomGirl to be different and stand out. For instance, I don't want it to be so predictable when we do our releases or switch up our color theme. I want it to drop unexpectedly and create a buzz." –Reginae Carter
For our exclusive Beauty Spotlight, Actress Shalita Grant stresses the importance of healthy skin and even healthier hair on and off-set. At the same time, celebrity MUA, Michele Parker, shares her moisturized and flawless winter tips to keep your beat moisturized and flawless!
 Content creator Lamara Davis helps us explore beauty techniques in a way we never thought possible for the Foundation. For our Hair Stylist Spotlight, Celebrity Stylist and serial entrepreneur, Tamika Gibson shows us that protective styles are the new normal. It's been time to invest in your skincare routine! Check out products we love for glowing, beautiful skin this winter in this issue's SHEEN Beauty Tour.
Our featured Stylist Spotlight, Celebrity Wardrobe Stylist, Manny Jay, talks all things fashion and how he's using his gift to evolve Hollywood; as our Designer Spotlight, Kara Chin of A19, discusses the transitions in her life that led her to launch her fashion empire. We've got you covered with the hottest trends–With every New Year comes new fashion. So refresh your closet this season with these must-have pieces!
Tayo Kuku shares how he turned a hobby into his profession through the camera lens for our Artist Spotlight. Our on the Rise star, Actress, Layla Crawford is quickly rising and moving simultaneously. Sizzle through a date night as we discuss cuffing season with music artist Zach Zoya for an exclusive Mandate. For Challenge to Change, we've enlisted the help of Dr. Fondrea Lewis to give us insight on how to embrace a new outlook on life! In our Music Spotlight, Starr Dawkins takes entrepreneurship to new heights as she explores the world of entertainment.
Fitness is a lifestyle, and body trainer Jerome Teasley believes that intentional movement will help you achieve your New Year's goals of getting fit! Children's author Tiffany says the ticket to success is to dream BIG!
SHEEN Magazine's January/February 2022 A New Outlook on Life issue hits stands on Thursday, December 30th.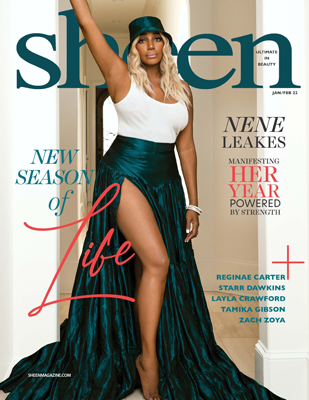 Photo by Blair Devereaux
About SHEEN Magazine
Sheen Magazine is The Ultimate Beauty Guide for the modern-day woman. The lifestyle and beauty publication is the preeminent voice on new trends, techniques, and products. Sheen Magazine is a national and international distributed publication. Published bi-monthly, Sheen Magazine maintains its influence by always remaining current on the trends of beauty, fashion, hair, and entertainment. In addition, the publication seeks to cultivate, educate, and motivate, encouraging the full potential of its readers. The Ultimate Beauty Guide can be purchased nationally at Target, Walmart, Walgreens, Books-A-Million, and Barnes & Noble. Visit us online at SheenMagazine.com and follow us on Facebook, Twitter, and Instagram @sheenmagazine